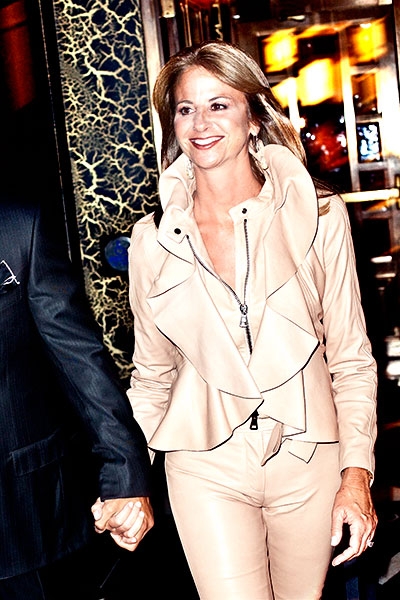 Our September issue follows 19 of Washington's most fashionable ladies and gents through a cool night out at the W Hotel. While the clothes do most of the talking in print, the Style Setters themselves get the last word online.
Who: Cheryl New, divorce attorney, New & Lowinger
Describe your style in ten words or less: "Rebel with a cause."
Favorite Places to shop in Washington: "Muléh when I'm looking to be creative; Saks Jandel, Gucci, or Ferragamo when I have to dress for a particular event; Neiman Marcus for shoes; and Target for long, ribbed tanks to wear under scratchy sweaters."
Fall gear you can't wait to wear: "Capes are big this fall. Ponchos or cape-type wraps complete any outfit, and I've been wearing them for years. I'm also looking forward to longer-length in skirts and dresses. Unless you're five-foot-two and 16 years old, the short-short lengths just aren't flattering."
Signature look: "Slim-cut, black Donna Karan trousers tucked into my black, over-the-knee, leather Stuart Weitzman boots with an untucked, tailored dress shirt from Michele Negri, my favorite store in Florence, Italy. I'll throw my black cashmere Loro Piana cape over the top, then finish the look with large, gypsy-style gold-and-diamond hoop earrings. For the courtoom, I'll swap the pants for a tailored skirt with the shirt and black tights."

One item that always makes you feel like a million bucks: "Teddy, my eight-year-old son, won a 'gold, pearl, and diamond' heart necklace for me at a 50-cent arcade game. I've worn it to court as well as black-tie events and get compliments on it all the time. People think it's real, and I just smile and agree that it's spectacular and special, because, after all, it is."
Style icons: "I look up to my mother, who I think is the most elegantly dressed woman in town. She's turning 80 this week and could be a runway model. Her look is absolutely classic, and she always chooses wonderful, timeless materials. Jackie Onassis and her daughter-in-law, Caroline Bessette Kennedy, also had poise and minimalist taste."
Best-dressed DC neighborhood: "Logan Circle—I love the home-furnishing stores there as much as the clothing stores. And Georgetown still has energy—I'm just as excited today to walk around there as I was when I was a teenager."
>> For more Style Setters extras, click here.
Subscribe to Washingtonian
Follow Washingtonian on Twitter
More>> Shop Around Blog | Style | Find a Spa