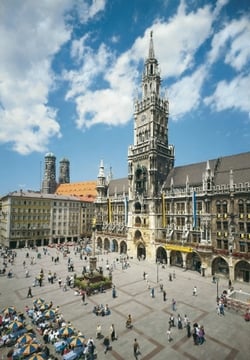 Why Now
Munich is famous for lederhosen, bratwurst and sauerkraut, and Oktoberfest, which is actually celebrated mostly in September. During the 16-day festival—this year it's September 18 through October 4—tourists flock to the Bavarian capital's fairgrounds, sit next to locals at long wooden tables, and shout "Prost!"
This year marks the 200th anniversary of the world's largest folk festival. Crowds gather in big tents to sample beer by Munich's six breweries—including pale ales (Helles), dark ales and stouts (Dunkels), wheat beer (Weissbier), and a special Oktoberfest brew called Märzen, similar to a pale lager—served in Germany's trademark one-liter steins.
What to Do
Munich is a world-class city with a small-town feel, rebuilt after World War II. Long an intellectual and technological capital, it boasts one of Europe's best public-transportation systems. Yet the city center is a walker's paradise, with public squares, breathtaking architecture, and a beer garden on seemingly every corner.
Marienplatz, the main square, is steeped in history—it was used for markets, festivals, and, during the Middle Ages, executions. Stop by the Rathaus, or New Town Hall, at 11 am, noon, or 5 pm to watch the Glockenspiel chime. Carved wooden figures pop out of the clock and move to the Barrelmakers' Dance.
Continue on to Viktualienmarkt, a 200-year-old open-air food market a short walk from Marienplatz, or head north to the Residenz, a 130-room residence of Bavarian monarchs that dates to the late 1300s.
Keen to see a castle? Plan a day trip to Neuschwanstein and neighboring Hohenschwangau, 80 miles outside the city. Picture-perfect Neuschwanstein, with its white facade and mock-medieval turrets, was the model for Sleeping Beauty's castle in Disneyland. If you don't have a day to spare, hop on tram 17 toward Amalienburgstrasse for a 20-minute ride to Nymphenburg Palace (schloss-nymphenburg.de), a sprawling Baroque palace that served as a summer residence for Bavaria's rulers. You can tour the ornate rooms before exploring the 490-acre park with its canal and lakes. Try not to miss the stables, which house 19th-century carriages and sleighs.
Don't Miss
High-voltage demonstrations at the electric-power exhibit in the Deutsches Museum defy the adage that lightning never strikes the same place twice. The world's largest science-and-technology museum is also home to the first automobile (Benz, 1886), early motorized aircraft, and a replica of the first program-controlled computer as well as interactive displays on musical instruments, printing, and astronomy.
Where to Eat
Hofbräuhaus is the city's most famous brewery. Though frequented largely by tourists, it's popular for good reason. The beer hall seats guests at long wooden tables, and the gemütlichkeit, or coziness, is as plentiful as the beer. It's still warm enough in September to sit under the chestnut trees in the beer garden and overhear the oompah band inside.
For a break from beer, head to Weinhaus Neuner, a former monastery that's more than 400 years old and where wine was once made in the basement; now it's used to store wines from around the world. A friendly waitstaff is quick to offer recommendations. The crispy breast of Oldenburger duck with savoy cabbage, cranberries, and potato noodles is flavorful and juicy.
Tantris, with two Michelin stars, is regarded as Munich's best restaurant. The French/Mediterranean cuisine is good and pricey—the five-course tasting menu with wine pairings runs about $275 on weekends.
For Munich's best Wiener schnitzel and mashed potatoes, visit Spatenhaus (Residenzstrasse 12). The brewery/restaurant has outdoor dining with views of the Opera House and Residenz.
Where to Stay
Family-owned Bayerischer Hof, a five-star hotel built in the 19th century, has 395 guest rooms, a spa, a rooftop pool, bars, restaurants, a basement nightclub, and a Champagne breakfast. Rates start at $400 in September.
Hotel Laimer Hof is a quiet retreat near Nymphenburg Palace and a ten-minute tram ride from the city center. Rates are around $90. Sofitel Munich Bayerpost is an ultramodern alternative next to the main train station. Rates start at $214.