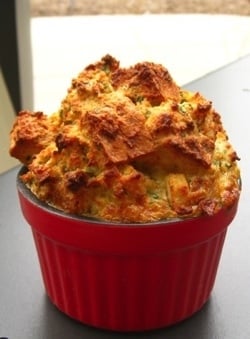 While developing recipes for her restaurant, Ris, chef/owner Ris Lacoste and her chef de cuisine, Ed Kwitoski, were looking for a side to go with a bourbon-glazed Berkshire pork chop. Kwitoski suggested a cornmeal johnnycake, and Lacoste fired back an idea for apple bread pudding. The result is a marriage of the two that includes cornbread and brioche.
Lacoste suggests using an array of apples from the farmers market for a variety of tastes and textures, but look for Honeycrisp and Braeburn, which cook reliably well. To work ahead, cut and freeze the breads, and the apple butter can be stored in the refrigerator for up to one week.
Ris's Apple-Cornbread Pudding
Serves 8
2 tablespoons butter, plus more for greasing ramekins
1 cup peeled, ¾-inch diced Honeycrisp or Braeburn apples
1 cup finely julienned onions
2 cups ¾-inch diced cornbread, from a favorite recipe or available at Whole Foods
2 cups ¾-inch diced brioche or challah, available at Whole Foods
4 tablespoons chopped fresh sage (blanch the leaves before chopping)
4 tablespoons fresh thyme
4 tablespoons chopped Italian parsley
1 teaspoon salt, or more to taste
½ teaspoon ground white pepper
4 ounces apple butter (see recipe below)
4 large eggs
1 egg yolk
½ teaspoon Tabasco sauce
2 cups heavy cream
Butter the bottom and sides of eight 8-ounce ramekins and set aside. Preheat the oven to 300 degrees for a convection oven or 325 for a conventional oven.
Melt 1 tablespoon butter in a pan over medium-high heat. Add the cut apples, letting them sit briefly to gain color. Stir and allow them to cook a few minutes more until they're lightly brown but still firm. Remove from pan and set aside.
Melt the other tablespoon of butter over medium-high heat. Add the onions, stirring occasionally until they're soft and lightly colored, about 5 minutes. Season with salt and pepper. Set aside and let cool.
In a large bowl, combine the cornbread, brioche, herbs, salt, white pepper, apple butter, and the caramelized apples and onions once they've cooled. In a separate bowl, whisk together the eggs, egg yolk, Tabasco, and cream. Add the egg mixture to the cornbread mixture and let soak for 10 minutes, stirring occasionally. Taste and adjust seasoning if necessary.
Divide the mixture into each of the buttered ramekins, filling each to ¼ inch from the top. Place the ramekins in a water bath and bake for about 30 minutes or until an inserted toothpick comes out clean. (This recipe can be prepared in a larger casserole form, which bakes for a longer time, roughly 45 minutes. Again, test the doneness with a toothpick.)

Apple Butter
2 Honeycrisp or Braeburn apples, peeled and sliced (roughly ¼-inch thick)
1 tablespoon butter
Melt the butter in a pan over medium heat. Add the sliced apples, letting them rest a minute or two to get color. Stir and cook a few minutes longer so the apples are lightly brown and soft. Purée in a blender, and let cool before mixing with other ingredients.
Subscribe to Washingtonian
Follow Washingtonian on Twitter
Follow the Best Bites Bloggers on Twitter at twitter.com/bestbitesblog
More>> Best Bites Blog | Food & Dining | Restaurant Finder