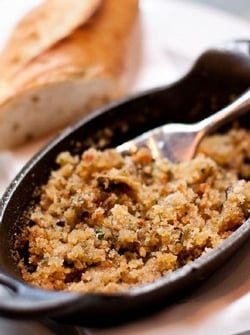 At PassionFish, executive chef Chris Clime pays homage to seafood dishes from San Francisco (cioppino) to Peru (ceviche). His baked clams casino is an adaptation of a New England classic. In Clime's rendition, wild Wellfleet clams are steamed whole, plucked from their shells, and packed in a molten casserole-like dish, unlike the individual in-the-shell tradition. But casino traditionalists will recognize the buttery, bacon-flecked filling, whole sweet clams, and the crunch of the broiled bread-crumb topping.
If you can't find Wellfleets, Clime suggests littlenecks or cherrystones (look in Wegmans or Whole Foods). You can also try Asian markets such as H Mart and Great Wall in Falls Church or the Maine Avenue Fish Market in Southwest DC—both have lower-priced fish. Look for tightly closed clams or open ones that snap shut when their top shells are tapped with a finger. (Unresponsive clams are dead and shouldn't be cooked.)
>>Have a recipe you'd like sniffed out? E-mail recipesleuth@washingtonian.com.
PassionFish's Clams Casino
Serves 4
Make the casino butter:
2 ounces pancetta or applewood-smoked bacon, diced
½ cup ¼-inch-diced red bell pepper
½ cup ¼-inch-diced yellow onion
3 cloves garlic, minced
1 pound butter at room temperature
Juice of 1 lemon
1 handful parsley, chopped
Salt to taste
Sauté pancetta until crispy in a small sauté pan over medium-low heat to render the fat. Add in the bell peppers and onions and sauté until translucent. Add the garlic and sauté until soft. Drain any excess liquid. Fold into the room-temperature butter. Add the lemon juice, chopped parsley, and salt. Spread the mixture evenly on a thin sheet of parchment paper. Freeze or refrigerate until as hard as the original butter, about 1 hour.
Prepare the clams:
40 whole rinsed clams (Wellfleet, littleneck, or cherrystone)
½ cup white wine
4 cloves garlic
1 handful parsley
3 sprigs thyme
1 bay leaf
Place all the ingredients in a wide, flat-bottom sauté pan over high heat. Cover the pan until the clams open, approximately 5 to 6 minutes. Remove any clams that don't open. Remove clams from their shell and set aside.
Assemble the dish:
1 cup panko bread crumbs
2 tablespoons butter, melted
Preheat the broiler to 375 degrees
In a casserole dish, put down a layer of clams, then cover them with the sheet of casino butter. Sprinkle the bread crumbs over the butter and drizzle a little melted butter on top.
Broil until the butter is melted and bubbling about 7 to 8 minutes. Serve immediately with a French baguette.
Subscribe to Washingtonian
Follow Washingtonian on Twitter
Follow the Best Bites Bloggers on Twitter at twitter.com/bestbitesblog
More>> Best Bites Blog | Food & Dining | Restaurant Finder