Architect Wayne Good's kitchen is 15 years old, but you'd never know it. "I wanted to create something timeless," he says.
His 100-year-old rowhouse in Annapolis required a top-to-bottom renovation, which Good did gradually over 12 years. The kitchen was the first room he tackled.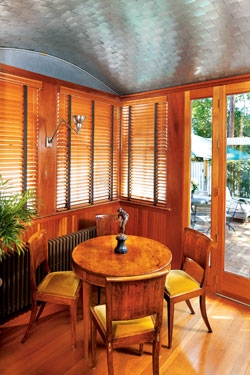 He added a doorway to an enclosed porch, which he and his wife, Leslie, now use as a breakfast room. Drawing inspiration from architect Frank Gehry, Good fabricated a woven-tin ceiling. "We wanted to bounce some light around, which it does beautifully," he says.
The kitchen is small, so Good used cabinets that extend to the ceiling to make the most of the vertical space and installed a hanging pot rack for extra storage. He put the refrigerator just outside the kitchen in a hallway, where it's recessed into a wall. "The fridge just disappears," Good says.
The chimney, original to the house, is the focal point. He installed ductwork and built out the structure to accommodate a hood. He then covered the chimney in pigmented plaster scored by hand to create a tiling effect. The brown-tile backsplash replicates the kitchen's original tile, uncovered during the renovation.
The original pine floors had been covered in '50s-era linoleum. When Good pulled it up, he found a thick layer of tar, which had to be removed. Underneath, he discovered wood planks that had been patched with thin, round pieces of metal, like the tops of aluminum cans. Good refinished the floors but kept the patches.
"It's quirky," he says. "I've always liked homes with character."
WHERE TO BUY
Want to recreate Wayne's kitchen in your own home? Here's where to find it.
Range: Lacanche from FrenchRanges.com
Counter stools: Emeco Navy
Kitchen faucet: Axor Citterio from Hansgrohe-USA.com
Sink Elkay: stainless steel
Dishwasher: Maytag
Refrigerator: Kenmore
Espresso machine: Expobar from WholeLatteLove.com
Hardware: Rejuvenation Hardware simple bin pulls
Cabinets: Custom cabinetry fabricated by Ruben Arizmendi at the Box Factory in Severn, Maryland
Countertops: Granite from Annapolis Marble & Granite
This article first appeared in the October 2010 issue of The Washintonian.