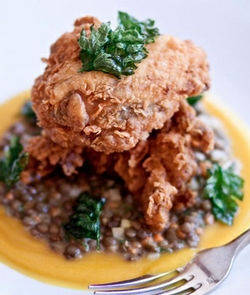 Before coming to Circle Bistro a couple years ago, chef Ethan McKee had never made fried chicken in a professional kitchen. You wouldn't know it, though, tasting the crisp outer crust and juicy meat inside. Because his resumé includes stints at white-tablecloth restaurants—such as Equinox in downtown DC—it's not surprising that his fried chicken is dressier than roadhouse versions: It comes with a bed of curried lentils and is made with all-natural Amish poultry that's treated to a 12-hour brine.
If you're in a hurry, it's okay to skip the long brine process, but starting the day before (the lentil ragout can be stored in the fridge for up to two days) will greatly enhance the bird's flavor. Frying can be messy on a stovetop, so if you think you'll be making this lots of times, McKee suggests buying a small countertop deep fryer (check Walmart or Amazon.com).
If you're already planning your Thanksgiving menu, McKee says to triple his brine recipe for a turkey.
>>Have a recipe you'd like sniffed out? E-mail recipesleuth@washingtonian.com.
Circle Bistro's Buttermilk Fried Chicken With Curried Lentils
Serves 4
Make the brine:
1 gallon water
1 cup salt
¼ cup of honey
Juice and zest of 2 to 3 lemons
10 sprigs of thyme
2 sprigs of rosemary
1 head of garlic, unpeeled and halved
10 bay leaves
Parsley stems, if you have them on hand
In a large pot set over high heat, combine all the other ingredients and bring to a boil. Remove from the heat, let the brine cool, and then chill completely in the refrigerator so that it's cold to the touch. Place the chicken pieces in the cold brine and let stand for 4 to 12 hours in the fridge.
Remove the chicken and pat dry with paper towels. If you start far enough ahead, place the chicken on a rack in the fridge with a sheet pan underneath to catch any moisture. Let the chicken air dry until there's no residual moisture (this can be done overnight). This will help the skin crisp up.
Make the lentils:
2 tablespoons unsalted butter
½ cup minced yellow onion
2 tablespoons minced garlic
2 tablespoons minced ginger
1 cup small-diced carrots
1 cup small-diced turnips
1 cup small-diced celery root
2 tablespoons Madras-curry powder
2 cups green lentils
4 cups chicken stock
Salt and pepper to taste
In a medium saucepan set over medium-low heat, melt the butter. Add the onion, garlic, and ginger, season with salt and pepper, and cook gently for 4 to 5 minutes, stirring occasionally without letting it color. Add the carrots, turnips, and celery root to the pan and cook for another 4 to 5 minutes. Stir in the curry powder and cook for another minute to toast the spices. Add the lentils and chicken stock (the stock should cover the lentils). Raise the heat and bring the lentils to a boil, and then turn the heat down so that the broth is at a low simmer. Simmer for about 20 minutes or until the lentils are tender. Season with salt and pepper.
Make the chicken:
4 to 6 cups canola oil (as needed for deep frying)
1 3½-pound chicken, cut into 8 pieces
2 cups buttermilk
4 cups all-purpose flour
1 teaspoon kosher salt
1 teaspoon smoked paprika
1 teaspoon onion powder
1 teaspoon garlic powder
1 teaspoon ground black pepper
Pre-heat the canola oil in a deep fryer or large pot to 325 degrees. Rinse the chicken under cold water and pat dry. Pour the buttermilk into a medium-sized mixing bowl. In another bowl, mix together the flour, salt, paprika, onion powder, garlic powder, and pepper. Dredge each piece of chicken in the seasoned flour and shake off any excess. Dip the chicken into the buttermilk, and then place it back into the flour, making sure that it is evenly coated (again, shake off any excess). Place the coated chicken onto a sheet pan until ready to fry. Fry the chicken in 2 or 3 batches—making sure that it is completely submerged in the oil—for about 8 to 10 minutes or until it has a deep golden-brown crust. Drain the chicken on paper towels. Let it rest for 6 to 8 minutes before serving to allow it to finish cooking.
Spoon the lentils onto four plates and place the fried chicken on top.
Subscribe to Washingtonian
Follow Washingtonian on Twitter
Follow the Best Bites Bloggers on Twitter at twitter.com/bestbitesblog
More>> Best Bites Blog | Food & Dining | Restaurant Finder