IN DC
Media mogul and entrepreneur Bob Johnson sold a six-bedroom, eight-bath Colonial on Audubon Terrace in Forest Hills for $4 million. Originally listed for $7 million, the house was on the market more than a year. It has a pool, lighted tennis court, and three-car garage. Widely acknowledged as the first African-American billionaire, Johnson cofounded Black Entertainment Television with his then-wife, Sheila Crump Johnson, in 1979. He's also CEO of RLJ Development, a real-estate investment company in Bethesda.
Lawyer Thomas Brunner bought a three-bedroom, four-bath Federal-style rowhouse in Woodley Park for $1.4 million. Brunner is a partner at Wiley Rein.
Lobbyist Steve Elmendorf sold a two-bedroom, three-bath condo on Connecticut Avenue in Kalorama for $975,000. The renovated unit has Washington Monument views. A former adviser to then–House Democratic leader Dick Gephardt, Elmendorf is head of his own lobbying firm, Elmendorf Strategies.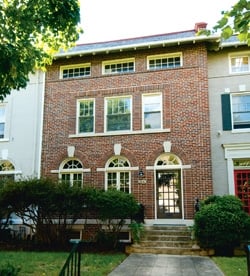 IN VIRGINIA
Real-estate executive Greg O'Brien and wife Lynne sold a five-bedroom, seven-bath Colonial on Bryan Pond Court in McLean for $2.5 million. The house sits on more than two acres and has a wine cellar. Greg O'Brien is former CEO of the Staubach Company real-estate firm, which Jones Lang LaSalle bought in 2008. He's now LaSalle's chief executive of brokerage in the Americas.
Former Redskins head of football operations Vinny Cerrato sold a Colonial in Great Falls for $1.9 million. Cerrato bought the five-bedroom, eight-bath house in 2004 for $2.4 million and originally listed it for $2.5 million. It has five fireplaces and a three-car garage. After nearly a decade as Dan Snyder's right-hand man, Cerrato resigned from the Redskins last December.
IN MARYLAND
University of Maryland men's basketball coach Gary Williams bought an eight-bedroom, nine-bath Colonial on Burdette Road in Bethesda for $1.5 million. The house has a solarium with an indoor pool and spa. Williams has led the Terps to two Final Four appearances, including the 2002 National Championship.
National Institutes of Health chief Francis Collins and his wife, Diane Baker, bought a four-bedroom, four-bath house in Chevy Chase for $1.2 million. A physician-geneticist, Collins served as director of NIH's National Human Genome Research Institute from 1993 to 2008. He was sworn in as head of NIH in August 2009.
Pulitzer Prize–winning journalist Hedrick Smith sold a five-bedroom, four-bath Colonial on Montgomery Avenue in Chevy Chase for $1.1 million. The house has a two-story kitchen and artist's studio. Smith, a former reporter for the New York Times, owns Hedrick Smith Productions, which creates long-form documentaries and miniseries for PBS.
Some sales information provided by American City Business Leads and Diana Hart of Sotheby's International Realty. This article first appeared in the November 2010 issue of The Washingtonian.