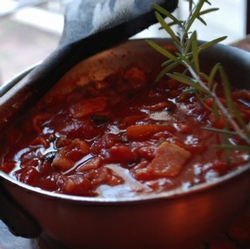 After working in high-end restaurants in Italy, England, and the United States—including Mio and the late Maestro in Washington—Italian-born chef Stefano Frigerio hung up his apron in 2008 to spend more time with his children. His restlessness at home led to the Copper Pot Food Company, which supplies house-made products such as jams, fresh pastas, and sauces to area restaurants and farmers markets. Frigerio makes everything using products from local farms—which sometimes provide inspiration for new ideas. His roasted-mushroom-and-bacon sauce was conceived when a market vendor gave him some wild mushrooms and he bought overripe summer tomatoes from another.
Frigerio says almost any kind of pasta will go well with the sauce, but gnocchi are a good choice for colder months.
You can find Copper Pot products online as well as at the following farmers markets: Dupont Circle, H Street, Penn Quarter, Silver Spring, and the White House.
>>Have a recipe you'd like sniffed out? E-mail recipesleuth@washingtonian.com.
The Copper Pot Food Company's Roasted-Mushroom-and-Bacon Tomato Sauce
Serves 4
1 tablespoon olive oil
¼ cup diced hickory-smoked bacon
¼ cup sliced shallots
3 cloves garlic, optional
1 cup sliced mushrooms (button or cremini)
1 teaspoon fresh thyme
1 32-ounce can chopped Italian tomatoes in juice, preferably San Marzano (in summer, use 4 cups overripe tomatoes, diced)
Salt and pepper to taste
1 pound fresh gnocchi or other pasta, cooked according to instructions on the box
Dried chili flakes, parsley, or oregano to taste (optional)
Set a medium saucepan over medium-high heat and add the olive oil. Add the bacon and cook for one minute. Then add the shallots, garlic (if using), mushrooms, and thyme, and, stirring frequently, cook until the shallots are golden, approximately 5 minutes. Add the tomatoes and bring the sauce to a boil. Allow it to cook for 40 minutes on medium heat, stirring occasionally. Add salt and pepper and herbs (if using) to taste. Serve over cooked gnocchi or pasta.
Subscribe to Washingtonian
Follow Washingtonian on Twitter
Follow the Best Bites Bloggers on Twitter at twitter.com/bestbitesblog
More>> Best Bites Blog | Food & Dining | Restaurant Finder