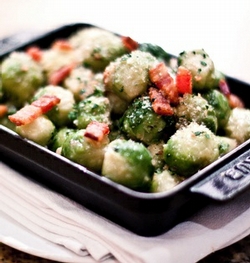 At Citronelle, chef Michel Richard is known for his complex, whimsical takes on French cuisine. But the Brussels-sprouts side on the menu at his downtown bistro, Central, show he's not above cooking basic recipes, either. When asked about the dish's origin, Richard admitted that it's not his own creation: The recipe is from his mother, who made them for Richard when he was growing up in the Ardennes (for more on Richard's life, see our profile here). With the addition of smoky bacon and a healthy dose of finishing butter, it's no wonder he became a lifelong sprout-lover.
This dish is perfect for a low-maintenance, last-minute Thanksgiving side, or for any hearty cool-weather meal. Look for Brussels sprouts at the FreshFarm markets through the fall.
Central Brussels Sprouts
Serves 4
4 cups whole Brussels sprouts, trimmed and with the ends cut off
1 white onion, cut into ¼-inch dice
2 tablespoons canola oil
¼ pound applewood-smoked bacon, cut into ¼-inch strips
1 cup chicken stock
4 tablespoons butter
2 tablespoons breadcrumbs
1 tablespoon chopped parsley
Salt and pepper to taste
Steam the Brussels sprouts for 7 minutes, or until they're easily pierced with a knife.
In a large sauté pan set over medium heat, sauté the onions in the canola oil until they're caramelized and golden brown, about 10 minutes. Remove the pan from the heat, and season the onions with salt and pepper.
In another large sauté pan set over medium heat, cook the bacon until it's crispy. Set the cooked bacon aside on paper towels.
Put the large sauté pan holding the onions over medium heat, and add the Brussels sprouts, caramelized onions, bacon lardons, and chicken stock. Cover and cook for 3 minutes. Add the butter to the pan, season with salt and pepper, and continue to cook uncovered until the butter has melted and the Brussels sprouts are glazed with the sauce. Check seasoning and serve with parsley and bread crumbs on top for garnish.
Subscribe to Washingtonian
Follow Washingtonian on Twitter
Follow the Best Bites Bloggers on Twitter at twitter.com/bestbitesblog
More>> Best Bites Blog | Food & Dining | Restaurant Finder