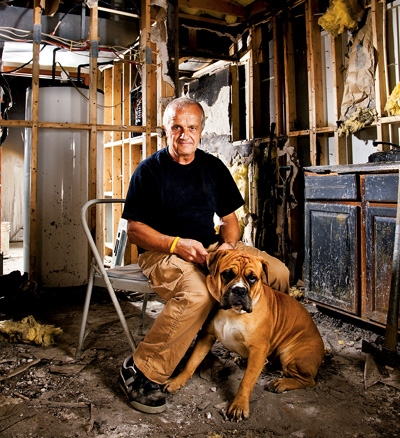 Jean-Louis Evennou is used to waking up to the sound of barking. Most mornings, his Old English bulldog, Enzo, and his nephew's pit bull, Marcus, start getting vocal around 6 am, wanting to go outside. But it wasn't even 4 in the morning on July 26 when the noise roused Evennou and his wife, Suzanne.
"Be quiet!" Evennou yelled. But the dogs wouldn't stop.
When he got out of bed a few minutes later, he found one-year-old Enzo circling the family room, where he sleeps. Two-year-old Marcus, who often stays at the couple's ranch-style home in Upper Marlboro, was hiding under the pool table, shaking. Evennou saw smoke coming from under the basement door.
"When I opened the door, it was like a movie," he says. "It was what they call a backdraft. Everything got sucked in. There was a big explosion, and then the flames started to shoot from the bottom to the ceiling."
He ran back to the bedroom, woke his wife, and told her to take the dogs and get outside. Then he dialed 911. Even after his wife, Enzo, and Marcus made it out, the dogs remained agitated watching Evennou go back in with a hose.
"It was like they weren't going to stop barking until everyone got out safely," says Suzanne Evennou. Her husband put towels on his head and went back for his son's trophies and other mementos, an action firefighters don't recommend.
The Evennous say that Enzo—whom they got about a year ago—was shy as a puppy but has always been protective, often barking at wildlife on their 25-acre property. But Suzanne had never seen the dog so riled up.
By the time members of the Bowie Volunteer Fire Department arrived, the dogs had calmed down. "Once we were out of the house, Enzo went into the bushes and hid," she says.
According to Bowie fire captain Adam Bushee, it's not uncommon for a family pet to alert people to danger: "They have stronger senses than humans do—their smell, their hearing is just so much better."
Last October, a Doberman barked and jumped at a side door to warn his family of a fire at their Beltsville home. In 2008, a black Lab alerted his sleeping owners to a fire that eventually destroyed their Potomac home.
Investigators think a recent electrical storm caused a live wire in the Evennous' basement drywall to start smoldering. When the framework ignited, the dogs likely felt the heat coming through the floor.
"This time, I'm glad they slept in the pool room," says Evennou, who is chef/owner of Café Normandie in Annapolis. The fire left so much smoke damage throughout the house that he and his wife will probably have to rebuild.
Soon after the fire, the couple brought home a doggy bag for Enzo and Marcus from DC's Prime Rib steakhouse. But how can they ever repay them? Evennou smiles as he breaks a granola bar and feeds each dog from his palm. "On that Thursday after the fire, I was supposed to take Enzo to get neutered," he says. "When this happened, I said no way."
This article first appeared in the November 2010 issue of The Washingtonian.
Subscribe to Washingtonian
Follow Washingtonian on Twitter
More>> Open House Blog | Homes | Real Estate