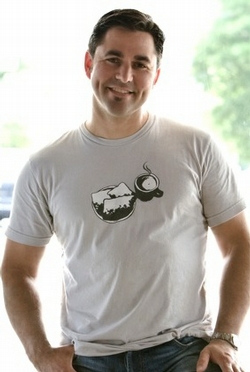 Bell peppers may seem like a tame secret ingredient for Iron Chef America, but the battle last night between the newest top toque, Marc Forgione, and former Vidalia chef R.J. Cooper was anything but mild. Our hometown competitor's team was made up of sous chefs Harper McClure—Cooper's chef de cuisine at his soon-to-open Rogue 24—and Bayou Bakery owner and pastry chef David Guas. They transformed peppers into an accompaniment for sea urchin and fashioned them into a dessert that featured red-pepper gelée, goat-cheese mousse, candied peppers, and fried bacon. Despite high praise from the judges (the Travel Channel's Adam Richman said, "Dude, wherever you cook, I'm comin'."), Forgione took home the crown.
Cooper held a viewing party last night at Long View Gallery in the Mount Vernon neighborhood, close to Rogue 24's space. The event doubled as a benefit for Chefs as Parents, a local organization dedicated to improving school lunch. Founders Cathal Armstrong and Robert Wiedmaier were at the event, as was Todd Thrasher, who served a boozy punch. Guas contributed bacon-spiked caramel corn, McClure put out a bacon velouté with Nantucket Bay scallops.
We sat down with Guas to talk about his experience in Kitchen Stadium, training for the match, and what he'd do differently next time.
Did the network tell you ahead of time what the secret ingredient would be?
"They gave us three possibilities: beef, razor clams, and peppers. Both of the other ingredients scared me. They tell you two hours before you go on what it is, and you can race through scenarios. You can have notes on stage, but they have to be tucked away."
What would you have made with beef or razor clams?
"During our training we made a dessert with phyllo and stuffed it with candied fruit and rendered beef fat. The clams were hard. We made an ice cream with the liquid of the steamed clams and a bit of white wine."

How did you and the other chefs prepare?
"We got together twice to train and race the clock. We created a menu based on the three possibilities and made five to six courses for each. We didn't have a kitchen: RJ had left Vidalia, and I didn't have my kitchen yet. Harper was still down in Atlanta. We ended up borrowing Weidmaier's kitchens at Brasserie Beck and Marcel's for four to five hours. We trained a total of eight or nine hours."
Did the training come in handy when you got to filming?
"You can train all you want, but Kitchen Stadium is like a snake pit of wires, guys constantly in your face with a camera, guys coming up and sticking a microphone in your face. That's the beauty of being a sous chef: I could keep my head down the whole time. RJ was the guy that needed to be more engaging and the entertainer."
Do you watch much Iron Chef before going on the show?
"When it first started—years ago. I didn't even know who the players were in the current season. I didn't realize that Forgione was the new Iron Chef and that no one had battled him before."
As a pastry chef, what was your experience in the competition versus that of the other cooks?
"The dessert is the last thing they eat. I didn't think about it too much, but if it was a horrible dessert, it could be the reason RJ loses."
What was the most challenging part of Kitchen Stadium?
"Being in an unfamiliar kitchen and not knowing where things were or how they worked. If the oven runs hot, that's something you don't know until you cook in it."

Were there any funny moments?
"They called me Harper for 40 minutes. I don't know when [host] Alton Brown figured that part out."
If there was one thing you could redo in the competition, what would it be?
"More sleep the night before."
Subscribe to Washingtonian
Follow Washingtonian on Twitter
Follow the Best Bites Bloggers on Twitter at twitter.com/bestbitesblog
More>> Best Bites Blog | Food & Dining | Restaurant Finder