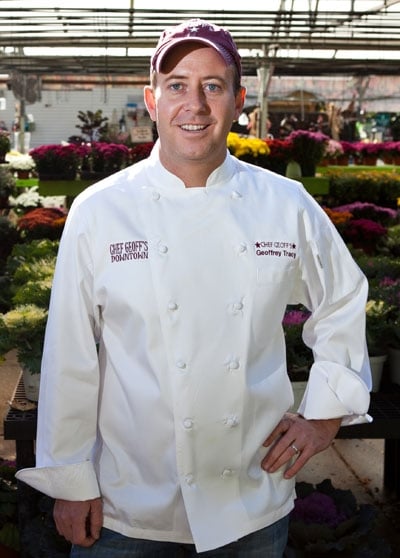 GEOFF TRACY
Tracy is chef/owner of Lia's in Friendship Heights as well as three Chef Geoff's restaurants. He and his wife, MSNBC correspondent Norah O'Donnell, recently cowrote a cookbook of baby-food recipes, Baby Love.
My wife and I love Sushi-Ko Chevy Chase (301-961-1644) for takeout. We always get the crunchy shrimp and some edamame and have a quick dinner with a bottle of wine. We also like Meiwah (301-652-9882). Larry La is the owner, and the best thing to get is the Peking duck, which Larry serves tableside.
My favorite place for good shoes is the Saks Men's Store (202-363-2059). They have sales once a year, which is usually when I go, and great service.

Friendship Heights Village Center (301-656-2797) is a great place. Norah and I speak there sometimes, and I've done cooking demonstrations. They have a wide range of events for the community as well as great author readings and signings.
Johnson's Florist & Garden Center (202-244-6100) is a great place for urban gardeners. And it's also a nice place to get cut flowers for the house.
Norah finds the best deals for the kids at Lord & Taylor (202-362-9600). They always send out those discount cards, and they really add up.
JANE MAYER
Mayer is a staff writer for the New Yorker. Her most recent book, The Dark Side, explores terrorism and the George W. Bush administration's policies on Islamic radicalism.
The Oregon Avenue entrance to Rock Creek Park always restores my sanity. I take our Labrador there every day—there's a fantastic trail that goes all the way to Beach Drive. It's gorgeous in every season and so tranquil.
The Avalon Theatre (202-966-3464) has been restored. Its main theater has a huge, wonderful screen and a ceiling fresco of a flying cherub with a movie reel. There's a cafe where you can pick up a glass of wine and take it in with you.
Chevy Chase Village has a lot of neighborhood character. On the Fourth of July, we have a "decorate your bike" parade that ends with a reading of the Declaration of Independence. Around Christmas, Santa rides around on a fire engine throwing candy to all the kids. It's very old-fashioned.
Not only does Chevy Chase Seafood Market (202-686-1068) have great fish, but if you're stuck with nothing to serve at a dinner party, they poach a whole salmon for you and put in on a platter with cucumbers and sauce. It's perfect and not all that expensive.
Barston's Child's Play (202-244-3602) is the best toy store in the area. It has a fantastic children's book section. And as somebody who writes books and reads a lot of them, I consider Politics and Prose (202-364-1919) a treasure. It has a wonderful community feel, and it's such a resource for anyone interested in political reading.
Full of Beans (202-362-8566) has tasteful, adorable outfits for kids. We've loved it from babyhood on—it's the best place to get party dresses. I was sorry when my daughter outgrew the sizes there.
Chevy Chase Post Office (301-941-2681) is a tiny post office used by the immediate neighborhood. It's also the only one I know where there's never a line and the people are never surly. It's like stepping back in time.
EMILY YOFFE
Yoffe is a writer for Slate and author of the online magazine's advice column, "Dear Prudence."
One of my favorite things to do is walk around here because it's beautiful and people do such lovely things with their gardens.
There's a little-known restaurant called Tavira (301-652-8684). The location is heartbreaking because it's in the basement of an office building, but it's one of the few Portuguese restaurants around and the food is really good.
The Chevy Chase area has a bunch of independent grocery stores, like Brookville Market (301-652-2793) and Chevy Chase Supermarket (301-656-5133). In the winter, they overbought shovels, so now they have shovels everywhere and have competitions to give them away. The Broad Branch Market (202-249-8551) is fantastic. It's small, but they have lots of really great prepared food, a variety of beautiful produce, and ice cream. I wish there were more neighborhood stores like it.
I bring shoes, luggage, and handbags to Expert Shoe & Luggage Repair (202-362-6681). Nearby is Finials Antiques (202-362-8400), a little store with a really nice selection. It's not expensive, it's eclectic, and they have a lot of turnover.
I also like Potomac Video (202-362-5018). Sure, you can get movies mailed to you, but once I needed to watch Nanook of the North and Potomac had it. They have a huge selection of classics, foreign films, and TV shows.
ELAYNE BENNETT
Bennett is founder of the Best Friends Foundation, an education and mentoring program for teenage girls. Her husband, Bill Bennett, is a pundit and radio host who served as Secretary of Education during the Reagan administration.
Bill loves the wonderful pharmacist at Brookville Pharmacy (301-718-0900), Hossein Ejtemai, as well as Chevy Chase Wine & Spirits (202-363-4000). He also loves John Panagiotopoulos, the barber at Brookville Barber Shop (301-951-5203).
We both love La Ferme Restaurant (301-986-5255). It's a lovely little place with a pianist.
I love Lisa Phuong at Nail Spa (202-362-5099). She could not be nicer. Amber Fields Interiors (301-657-4288) is wonderful for gifts, specialty items for your house, furniture, and fabrics. Ellen Roberts and Karen Marvaso are the owners, and they always go the extra mile.
I also love Noreen Lucey at Write for You (202-686-7060) for stationery or gifts—whether it's invitations for a party, greetings cards, or lovely little baby gifts.
The cosmetics department at Neiman Marcus (202-966-9700) is the best. Martha Slagle at Neiman's is an institution. She can do anything for you—she'll contact a personal shopper and make things happen.