For the 33rd year, Washingtonian readers have spoken about their favorite restaurants. And they've had more than ever to choose from.
Some things haven't changed. Michael Landrum, who recently announced plans for a DC cafe, continues a steak-fueled winning streak. His Ray's the Steaks took top steakhouse honors for the fourth year in a row, and as it did last year, Ray's Hell-Burger handily swept the burger category.
The Dupont Circle restaurant Komi, which offers only a $125 tasting menu, has packed in enough fans to make it the top-rated restaurant for the third consecutive year. Our critics agree—it was number one on our annual list of the 100 Very Best Restaurants in January.
The pick for new restaurant is the Logan Circle DC hot spot Estadio, where diners endure long waits for Spanish charcuterie, tiny bar snacks called pintxos, and sherry floats.
The waits are nearly as long at the new Red Hook Lobster Pound, a food-truck offshoot of a Brooklyn storefront. It sells two kinds of lobster rolls—chilled with mayo Maine style or warm with butter the Connecticut way. It beat out its suddenly ample competition for best food truck.
There are lots more newcomers on the list. Forget Top Chef DC—here's all the proof anyone needs that the Washington food scene has arrived.>> Next: Reader's picks for the best restaurant in Washington, best service, best burger, and more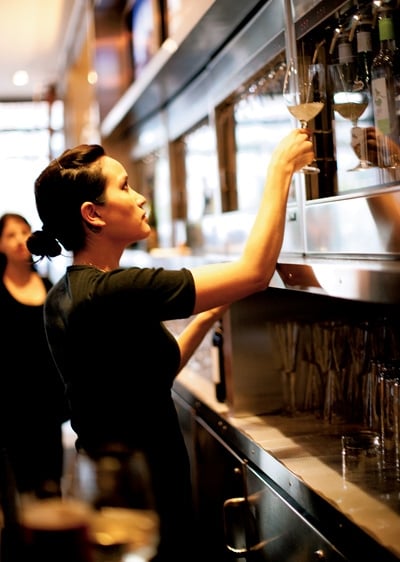 BEST RESTAURANT
1. Komi, Dupont Circle. A parade of tiny masterpieces leads to a glorious feast of roast suckling pig, baby goat, or salt-baked branzino.
2. Dino, Cleveland Park. House-made pastas, imported charcuterie, and a formidable collection of Italian wines.
3. Ray's the Steaks, Courthouse. Michael Landrum's empire keeps expanding, but his original steakhouse remains as strong as ever.
BEST NEW RESTAURANT
1. Estadio, Logan Circle. Proof owner Mark Kuller's Spanish-themed hangout, with its sherry-spiked "slushees" and bite-size pintxos, has been a hit since day one.
2. Kushi, Mount Vernon Square. With fish flown in from Tokyo and an izakaya-style grill, this throbbing hot spot is like nothing else in DC.
3. Lyon Hall, Clarendon. French bistro cooking, hearty German sausages, and an interesting beer-and-wine selection come together at this Liberty Tavern spinoff.
BEST SERVICE
1. Komi, Dupont Circle. This rowhouse restaurant has a stable of servers who are young and smart but not pretentious.
2. Marcel's, West End. The crisp, formal service harkens back to the Kennedy era.
3. Restaurant Eve, Old Town Alexandria. Want to know which farm the heirloom carrots come from? Servers here can tell you.
BEST FOR SPECIAL OCCASIONS
1. Komi, Dupont Circle. Nothing about this minimalist dining room feels formal except the $125 price tag on the tasting menu. But it's so full of culinary wonders that it topped The Washingtonian's 100 Very Best Restaurants list this year.
2. Restaurant Eve, Old Town Alexandria. A colorful renovation has spiffed up the extravagant Tasting Room. The more low-key Bistro is special enough for a birthday or anniversary.
3. Citronelle, Georgetown. Is there a better way to celebrate than with one of Michel Richard's caviar penguins?
BEST VALUE
1. Dino, Cleveland Park. This Italian spot has deals every night.
2. Ray's the Steaks, Courthouse. Not many cuts of prime beef here top $20, and traditional sides of creamed spinach and mashed potatoes are included.
3. Zaytinya, Penn Quarter. At José Andrés's Greek/Lebanese/Turkish mezzeteria, the dishes are remarkably well crafted and consistent for the price.
BEST STEAKHOUSE
1. Ray's the Steaks, Courthouse. Michael Landrum's fast-paced, decoration-free flagship is the antithesis of the expense-account steakhouse.
2. J&G Steakhouse, downtown DC. Celebrity chef Jean-Georges Vongerichten's restaurant in the W Hotel—his 25th—showcases his brightly flavored appetizers and seafood dishes more than it does the cuts of beef.
3. BLT Steak, downtown DC. Bulging popovers begin the supersized meal at this chain, where onion rings are presented in towers and double-cut bacon is served as a starter.
BEST BURGERS
1. Ray's Hell-Burger, Courthouse. Craft the burger of your dreams with an array of high-end toppings—from cave-aged cheddar to sherried mushrooms to bone marrow.
2. BGR the Burger Joint, Bethesda, Arlington, Old Town Alexandria, and Dupont Circle. Juicy patties come both the old-fashioned way and with a sense of humor—a recent burger of the month was inspired by Jersey Shore party girl Snooki.
3. Five Guys, multiple area locations. The Arlington-based chain's diner-style burgers and fries have swept the nation—and still have plenty of fans at home.
BEST WINE BAR
1. Proof, Penn Quarter. Not up for shelling out $5,500 for a '97 Screaming Eagles Cabernet? There are lots of affordable bottles and 38 wines by the glass.
2. Cork, Logan Circle. This tiny, brick-walled haunt is known for simple small plates and a mostly European wine list.
3. Dino, Cleveland Park. Nightly wine specials draw in fans of Italian bottles.
BEST SEAFOOD
1. BlackSalt, Palisades. Jeff and Barbara Black's eclectic restaurant makes good use of the fresh catches from its front market and fish counter.
2. Hank's Oyster Bar, Dupont Circle and Old Town. The oysters—fresh, broiled, fried, or in a sake shot—are great, but we never pass up the lobster roll.
3. PassionFish, Reston. The best restaurant in Reston Town Center offers sushi, a raw bar, and greatest-hits dishes from Jeff Tunks's DC res
taurants, such as Ceiba and Acadiana.>> Next: The best of American, Italian, and more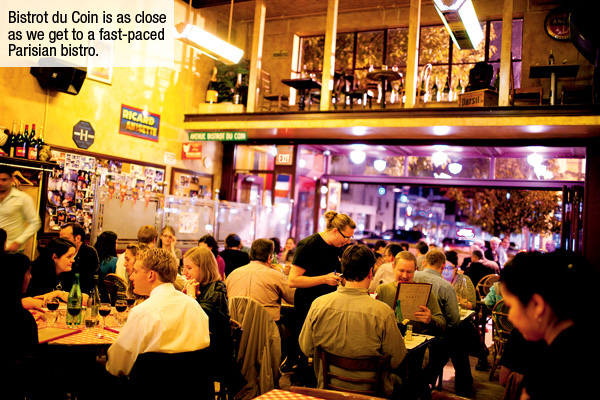 BEST AMERICAN
1. Founding Farmers, downtown DC. This folksy spot brings pot roast and pancakes to an unlikely place—the IMF building.
2. Chef Geoff's, downtown DC, upper Northwest, and Tysons Corner. Jazz brunches and great happy-hour deals separate these upscale saloons from the pack.
3. Willow, Ballston. Kinkead's alum Tracy O'Grady turns out luscious pastas and seafood dishes, while Firehook cofounder Kate Jansen takes care of the layer cakes and pies.
BEST FRENCH
1. Bistrot du Coin, Dupont Circle. Charmingly brusque waitresses serve up straightforward French bistro fare—no lobster burgers here.
2. Marcel's, West End. Robert Wiedmaier's bastion of old-guard elegance offers surprises such as hamachi crudo.
3. L'Auberge Chez François, Great Falls. Owner François Haeringer died this year at 91, but son Jacques still runs the kitchen with a sure hand.
BEST ITALIAN
1. Dino, Cleveland Park. Dean Gold's neighborhood place offers lots of classic preparations, but he's likely the only one in town putting an Italian spin on scrapple and bánh mì.
2. Tosca, Penn Quarter. Sumptuous pastas and ragus in a warm-toned white-tablecloth setting.
3. Bibiana, Penn Quarter. Ashok Bajaj's glittery dining room has fabulous desserts and digestivi.
BEST PIZZA
1. 2 Amys, Cleveland Park. Artisanal ingredients such as house-made charcuterie and pies made with buffalo mozzarella and Italian plum tomatoes.
2. Pupatella, Ballston. The bright-red street cart has grown into a permanent storefront and upgraded from a propane oven to a 1,000-degree wood-burning one from Naples.
3. Mia's Pizzas, Bethesda. This tiny, yellow-painted dining room packs in fans enjoying excellent Margherita pies.
BEST MEDITERRANEAN/GREEK
1. Zaytinya, Penn Quarter. José Andrés turns Greek, Turkish, and Lebanese cuisine into small plates.
2. Cava, Rockville and Capitol Hill. You can now buy this restaurant's Crazy Feta dip at Whole Foods, but it's still worth stopping in here for Disco Fries, grilled octopus, and Greek yogurt.
3. Zorba's Cafe, Dupont Circle. The pork gyro makes a great meal to go, and the outdoor patio is a nice spot for a quick Greek salad.
BEST INDIAN
1. Rasika, Penn Quarter. Vikram Sunderam's expert modern cooking—that's goat cheese hiding in the kulcha—makes this one of the toughest reservations in town.
2. Indique, Cleveland Park, and Indique Heights, Chevy Chase. Excellent curries meet such inventive appetizers as mini-dosas and crab tikki.
3. Heritage India, Glover Park and Dupont Circle. There's a great happy hour and a lunch buffet at Dupont, but the stews and tandoori meats are better at the Glover Park original.
BEST THAI
1. Bangkok 54, Arlington. Don't let the serene setting fool you: The cooking here can be downright fiery.
2. Thai Tanic, Logan Circle and Columbia Heights. Low-key neighborhood spots with assertive curries.
3. Thai Square, Arlington. The bare-bones dining room is livened by terrific honey-roasted duck and pillowy pork, shrimp, and chicken dumplings.
BEST CHINESE
1. Meiwah, downtown DC and Chevy Chase. Photos of actors and senators paper the walls of the downtown original, while the Maryland location is a family-friendly spot for sushi and lo mein.
2. Peking Gourmet Inn, Falls Church. There's always a wait—even if you have a reservation—for the crisp-skinned ducks at this Bush 41 favorite.
3. Mark's Duck House, Falls Church. Dim sum isn't just for weekends at this bustling strip-mall spot.
BEST LATIN AMERICAN
1. Oyamel, Penn Quarter. Mexican small plates, made-to-order guac, and tacos stuffed with suckling pig or, for the adventurous, Mexico City–favorite grasshoppers.
2. Lauriol Plaza, Dupont Circle. Twentysomethings pack the roof deck, staving off hangovers with cheesy enchiladas and smoking fajitas.
3. La Caraqueña, Falls Church. A quaint motel-side place for excellent arepas and salteñas.
>> Next: The top pic
ks for cupcakes, cocktails, and more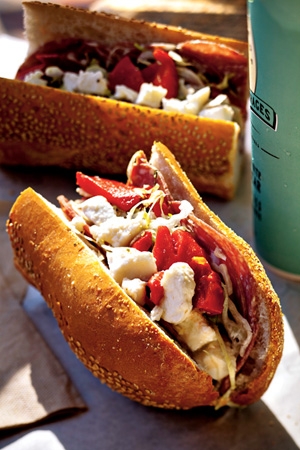 BEST CUPCAKES
1. Georgetown Cupcake, Georgetown and Bethesda. Think the lines were long last year? A hit reality show about the sister owners means you'll wait even longer for those salty-caramel and red-velvet confections.
2. Baked & Wired, Georgetown. Oversize, paper-wrapped cupcakes with a sense of whimsy—try the Chocolate Cupcake of Doom or the blueberry-studded Smurfette.
3. Hello Cupcake, Dupont Circle. The icing is piled high on these sweets, inspired by Elvis (peanut butter and banana) and Prince (Raspberry Beret).
BEST SANDWICHES
1. Taylor Gourmet, H Street, Northeast; Mount Vernon Square; and Bethesda. Philly-inspired cold-cut and chicken-cutlet hoagies served in eco-conscious settings.
2. The Italian Store, Arlington. Mortadella, prosciutto, and Genoa salami are layered liberally in these classic Italian subs.
3. Potbelly, multiple area locations. Shakes and toasted subs from a folksy Chicago-based chain.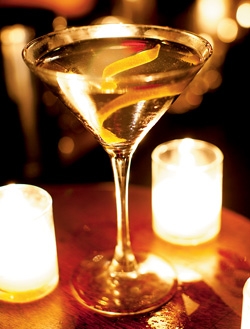 BEST COCKTAILS
1. The Gibson, U Street, Northwest. Antique cocktails are resurrected at this swank sister to neighboring hot spot Marvin.
2. The Passenger/the Columbia Room, Mount Vernon Square. Tom Brown presides over the craft-cocktail saloon the Passenger up front, while brother Derek Brown whips up cocktail tastings—and a world-class martini—in the reservation-only Columbia Room in back.
3. PX, Old Town Alexandria. The area's first modern-day speakeasy is hushed and dark with a no-standing rule. Less stiff is the cocktail menu, which has had a drink named after Ron Burgundy, Will Ferrell's Anchorman character.
BEST FOOD TRUCK
1. Red Hook Lobster Pound, DC locations posted at twitter.com/lobstertruckdc. Downtown lunchers routinely wait an hour (sometimes two) for the excellent lobster rolls—one served warm with butter and lemon, the other cool and stuffed with mayo-bound claw meat.
2. Fojol Bros., DC locations at twitter.com/fojolbros. A trippy band of prep-school alums—one on rollerblades—man this indie-pop-blasting, Indian-food-serving truck.
3. Sâuçá, DC locations at twitter.com/wheresauca. Wraps get redefined by this duo of trucks: butter chicken, turkey meatballs in marinara, bánh mì, and shawarma, each enrobed in flatbread.
This article first appeared in the December 2010 issue of The Washingtonian.