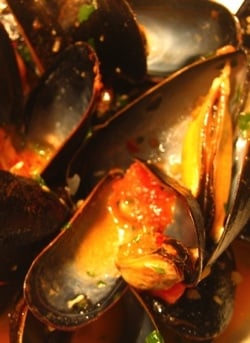 Menu items come and go at Jeff and Barbara Black's four restaurants, and none has stayed around as long as the mussels at Addie's. The fragrant bowl of garlicky steamed bivalves was on the menu when the Blacks opened Addie's in Rockville in 1995. The dish has traveled with them to the places they've opened since: Black's Bar and Kitchen, BlackSalt, and Black Market Bistro. While each spot has a seasonally changing menu, Addie's mussels are always available; Jeff Black calls it "the backbone dish" of the group.
One of Jeff Black's mentors, the renowned late chef Jean-Louis Palladin, was the inspiration for Addie's mussels with his version of the Escoffier classic, moules marinières. Black's tweaks include replacing fish fumet with poultry stock, which makes it taste like a seafood lover's chicken soup, and the addition of canned tomatoes (in summer, you can use fresh ones peeled, seeded, and chopped). He gets his mussels from Prince Edward Island; they're reliably good but at their sweetest and plumpest in winter months. You can buy them at BlackSalt's seafood market or Whole Foods, where you can also find a good baguette. Whether you dress the bread up with garlic and butter or use it plain out of the bag, you'll want it for soaking up extra broth.
Addie's Mussels

Serves one as a main course, two as an appetizer
1 tablespoon olive oil
1 pound Prince Edward Island mussels
2 tablespoons diced shallot
1 tablespoon minced garlic
1 teaspoon crushed red-pepper flakes
½ cup chicken stock, or more to taste if the liquid reduces quickly
4 tablespoons butter
½ lemon, juiced, or more to taste
1 8-ounce can of whole tomatoes, juice discarded, cut into medium dice
1 teaspoon chopped parsley
Salt and pepper to taste
Clean the mussels under cold running water, removing beards with a pairing knife.
In a large sauté pan set over medium-high heat, add the olive oil, mussels, shallot, garlic, and red-pepper flakes. Sauté until the mussels start to open and the shallot turns translucent, being careful not to burn the crushed red-pepper flakes. Add chicken stock and tomatoes and cover, cooking until the mussels open, about 5 to 6 minutes. Discard any unopened mussels. Once the mussels are cooked, finish with the butter, lemon juice, and parsley. Add the salt and pepper to taste. Serve with a French baguette.
Subscribe to Washingtonian
Follow Washingtonian on Twitter
Follow the Best Bites Bloggers on Twitter at twitter.com/bestbitesblog
More>> Best Bites Blog | Food & Dining | Restaurant Finder