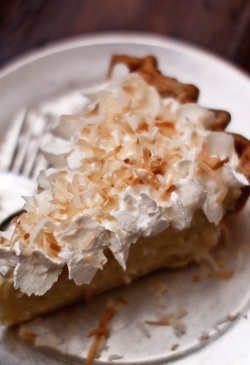 Given the type of comfort food that chef/owner Gillian Clark dishes out at General Store in Silver Spring (think fried chicken and green-bean casserole), you'd think she was drawing from her grandmother's playbook.
When asked about the origin of her coconut cream pie, however, she revealed: "We Googled the pie, found a recipe, and built from there."
Honest food from an honest chef—she also admitted she doesn't like eating cream pies. She recommends taking care with the custard filling (scorching the cream results in an off taste, and it won't thicken if the heat is too low). Other than that, it's as easy as . . . well, Googling. All the ingredients can be found at your local grocery store.
General Store's Coconut Cream Pie
Makes one 9-inch pie

Make the crust:
2 cups flour, plus more for dusting the pan
½ teaspoon salt
2⁄3 cup (10 tablespoons plus 2 teaspoons) unsalted butter, very cold and cut into cubes, plus more for greasing the pan
1 egg yolk, beaten well (reserve the white—you'll need it later)
1⁄3 teaspoon of cider vinegar
about ½ cup of ice water (more or less, but enough to form a dry dough)
Preheat the oven to 425.
Mix the flour and salt in a bowl. Work the butter in using a fork or pastry blender. Add the yolk and cider and slowly incorporate into the dough with the ice water. Work gently and just combine the ingredients to form a ball that just begins to cling together. Wrap the ball in plastic wrap and let it rest in the refrigerator for an hour. Roll it out to about a 1⁄8-inch thickness on a lightly floured surface. Coat a 9-inch pie pan with butter and then dust with flour. Gently place your crust in the pan and press against and into the floured pan. Crimp the edges. Prick all over with a fork. Using pie weights (beans in foil covering the bottom of the crust works, too), bake for about 15 minutes or until golden brown. Brush with egg whites while still warm to seal the crust.

Make the filling:
½ cup sugar
2 large eggs
1 large egg yolk
3 tablespoons flour
1½ cups whole milk
1½ cups sweetened flaked coconut
1 teaspoon vanilla extract
1⁄8 teaspoon coconut extract
In a medium bowl, whisk together sugar, eggs, egg yolk, and flour. In a medium saucepan set over medium heat, bring the milk and coconut to a simmer. Gradually add hot milk mixture to egg mixture, whisking constantly. Return to same saucepan; cook until the pastry cream thickens and boils, stirring constantly, about 4 minutes. Remove from heat. Mix in vanilla and coconut extracts. Transfer pastry cream to medium bowl. Press plastic wrap directly onto surface to prevent the formation of a skin. Chill until cold, at least 2 hours and up to 1 day. Transfer filling to crust. Cover; chill overnight.
Make the topping:
2⁄3 cup sweetened flaked coconut
1¼ cups chilled whipping cream
2 tablespoons sugar
1⁄8 teaspoon coconut extract
In a heavy skillet set over medium heat, toast the coconut until lightly browned, stirring occasionally, about 3 minutes. Cool completely. Using an electric mixer, beat cream, sugar, and coconut extract in a medium bowl until peaks form. Spread whipped cream all over the top of the filling. Sprinkle evenly with toasted coconut. Can be prepared 4 hours ahead. Cover and refrigerate. Serve cold.
Subscribe to Washingtonian
Follow Washingtonian on Twitter
Follow the Best Bites Bloggers on Twitter at twitter.com/bestbitesblog
More>> Best Bites Blog | Food & Dining | Restaurant Finder