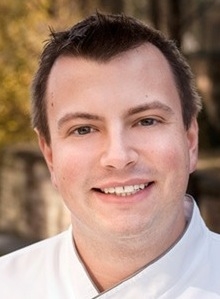 • It's not often that a celebrity chef's local deputy has room to show off his personality on the menu. But at Bourbon Steak—Michael Mina's restaurant in the Four Seasons hotel in Georgetown—David Varley was able to do just that with his lobster corn dogs and spin on Korean fried chicken. So we're sad to pass on the news, via Tom Sietsema of the Washington Post, that Varley is on his way to California in about a month. He's taking the role of Mina's corporate chef. His replacement is Adam Sobel, who's known Varley since 1999. About Sobel, Varley says, "He's better than I am."
• Bar Pilar on DC's 14th Street, one of our favorite places for small plates and cocktails, is getting bigger. Brightest Young Things has renderings of the new space, which is on the second floor of Pilar's same townhouse-like building. The planned decor includes Cuban tiles, local artwork, and antique doors.
• Also expanding is Komi on 17th Street, Northwest, which is adding square footage by taking over the space below its tiny dining room. Chef/owner Johnny Monis, who has served the First Couple, holds the top spot on our 100 Very Best Restaurants list. According to Prince of Petworth, a liquor-license amendment makes note of additional seating as well as a sidewalk cafe. However, Monis told Metrocurean that the extra space is for wine storage and an office.
• The Examiner broke the news Tuesday that the Town & Country bar in the Mayflower Hotel, a hangout for politicos and journalists, is closing January 15. Thomas Pink, a preppy clothing store that already has a space in the Mayflower, is moving into the vacated drinking spot.

• Jeff Black is being put through the ringer in trying to open his latest project, the Pearl Dive Oyster Palace and BlackJack on 14th Street, Northwest. Sommer Mathis at TBD reported that nearby residents vetoed his plans for a rear smoking deck, and he has to close earlier than DC's other bars (full hours are until 2 AM on weekdays and 3 AM on weekends, but residents want Black to shut down an hour earlier than those times). Residents have other quibbles, which will all shake out at a protest hearing January 19.
Subscribe to Washingtonian
Follow Washingtonian on Twitter
Follow the Best Bites Bloggers on Twitter at twitter.com/bestbitesblog
More>> Best Bites Blog | Food & Dining | Restaurant Finder