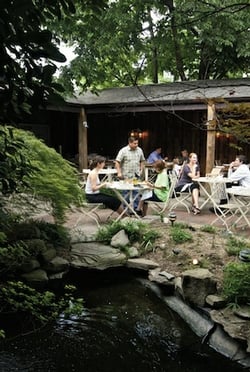 Blue Ridge in Glover Park has been dark since before Christmas, but the restaurant's Web site shows business as usual. When we called owner Eli Hengst, he informed us that Blue Ridge is closed for "a pretty substantial reworking" that includes changes in concept, decor, and maybe even name.
When it opened in 2009, disappointing reviews and the departure of well-known chef Barton Seaver killed any early buzz. Last summer, Hengst quietly changed the concept to be more casual with a focus on beer, including a back, European-style garden. But even with a deep list of craft beers and a sustainably minded menu—a formula that has worked for spots such as ChurchKey and Rustico—seats didn't fill. The laid-back upstairs "Hero" bar managed to draw a young crowd hopping between nearby night spots Town Hall and Bourbon, but neighbors weren't thrilled about the drink specials (translation: drunk, yelling customers) and filed noise complaints.
Maybe the third time will be the charm for Hengst and business partner Jared Rager, who also has a stake in Blue Ridge; together they own Sonoma on Capitol Hill.
"We decided to bring the restaurant a little closer to what we were seeing the need for in the area, and what we were hearing from our neighbors," Hengst said.
Plans are still underway, but Hengst indicated that over the next three to five months, Blue Ridge will become a neighborhood place that opens early, closes late, and serves coffee drinks, breakfast, and "farm-to-table diner food" at all hours in between. The craft-beer program is set to stay along with wine and cocktails, but the concept is more of an all-purpose hangout than a niche bar. Hengst seems to be picking attributes from his past and present ventures, blending Sonoma's sourcing ethos with the vibe and menu at Tryst, his first restaurant in Adams Morgan. Let's hope the new model finally amounts to a big win for Glover Park.
Subscribe to Washingtonian
Follow Washingtonian on Twitter
Follow the Best Bites Bloggers on Twitter at twitter.com/bestbitesblog
More>> Best Bites Blog | Food & Dining | Restaurant Finder