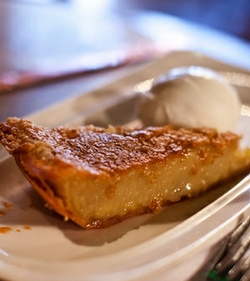 At Bar Pilar, chef Justin Bittner experiments with a globe's worth of flavors such as Asian beans and rice with pickled pork as well as a Spanish tortilla with goat cheese. When a customer asked if he could make a simple buttermilk pie—a classic Southern dessert—he just Googled a recipe. The rich confection was so popular as a special that it's still on the menu months later.
While customers love the pie's buttery sweetness, Bittner enjoys how easy it is to make—and the low cost of the ingredients is a plus, too. To offset the dessert's richness, he serves it with house-made lemon sorbet, but he says any store-bought light, acidic flavor will do. When making the filling, Bittner emphasizes that it's important to add the buttermilk last so the mixture won't separate.
Bar Pilar's Buttermilk Pie

Makes one 9-inch pie
Make the dough (pâte brisée):
1¼ cups flour
½ teaspoon salt
½ teaspoon sugar
½ cup unsalted butter, chilled and cut into small pieces
2 tablespoons plus 2 teaspoons cold milk
Pulse the dry ingredients in a food processor a few times. Add the butter in stages, and process until the dough resembles a coarse meal. With the motor running, gradually add just enough of the milk (you might not use all of it) until the dough comes together to clump and to form a ball. Place the dough onto a lightly floured surface, divide it into two portions, and pat each into a round. Wrap them in plastic and chill for at least 1 hour.
Preheat the oven to 325 degrees.
Flour a work surface and roll out one of the pieces of dough to fit into a 9-inch pie pan. Fit the dough into the pan, pressing it down to fit evenly.
Make the filling:
2 cups sugar
4 ounces (1 stick) butter, softened
3 eggs
4 tablespoons flour
1½ teaspoons vanilla extract
1 cup buttermilk
Beat together the sugar, butter, and eggs until smooth. Add the flour, vanilla, and buttermilk, and beat until smooth. Pour the filling mixture into the pie shell. Bake for about 1 hour, or until the filling is firm to the touch. Brûlée the top if desired.
Subscribe to Washingtonian
Follow Washingtonian on Twitter
Follow the Best Bites Bloggers on Twitter at twitter.com/bestbitesblog
More>> Best Bites Blog | Food & Dining | Restaurant Finder