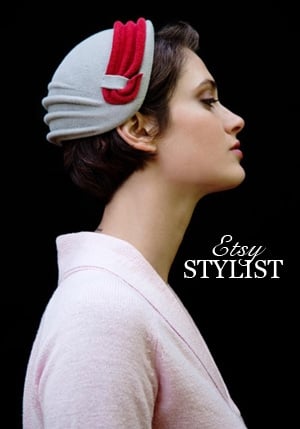 Embrace a touch of old-fashioned flair with these retro-themed hats from Etsy.
Yellowfield 7 offers a broad selection of handmade felt hats that will turn you into a glam goddess.
This prim gray topper perches so prettily. $350.
For a dramatic touch, this fedora with a felt crane accent will draw all eyes. $275.
This face-framing wine hat comes with a vintage pin. $350.
This cloche from Hey Sailor is set off by a bold feather. $198.
A more-subtle version of these styles is available from Tramp Millinery. Navy-and-plum cloche, $136.
You'll be bewitched by the vintage scarab buckle on this 1920s-style hat from Bonnie's Knitting. $85.
Snug fabric in structured pleats makes the stone cloche by Liza Rietz a winner. $42.
Subscribe to Washingtonian
Follow Washingtonian on Twitter
More>> Shop Around Blog | Style | Find a Spa