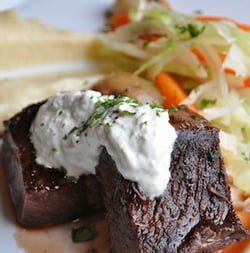 Chilly weather and sporadic storms call for braised meat: a large pot of something hearty to stave off the cold and have on hand when it's too icy to venture out. Bastille's braised beef is one such dish.
At the Old Town restaurant, chef/owners Christophe and Michelle Poteaux use grass-fed beef and Cabernet Sauvignon for the cooking wine, and they serve the meat with parsnip purée, horseradish crème, and sautéed seasonal vegetables. Michelle recommends several alternatives for home cooks: Use easy-to-find beef chuck, or substitute lamb or venison for a more robust flavor. For the red wine, she has one rule: If you like to drink it, you can cook with it (though don't waste an expensive bottle). Your side dishes also depend on personal taste. Michelle likes mashed or baked potatoes, but you could serve the meal with egg noodles or rice and a simple green salad.
The braise may look time-consuming, but it's an easy set-it-and-forget-it technique—and it can be cooked up to four days ahead and stored in the fridge (or frozen for up to six months). Poteaux says it's even better after sitting for a day because the flavors completely meld. Just reheat the braise over medium heat until it's warmed through.
Have a recipe you'd like sniffed out? E-mail recipesleuth@washingtonian.com.

Braised Beef au Vin Rouge
Serves 6
5 pounds beef chuck roast (sold precut at most stores)
1 large onion, roughly chopped into medium-size chunks
3 carrots, roughly chopped into medium-size chunks
2 celery stalks, roughly chopped into medium-size chunks
5 whole garlic cloves, peeled
1 quart red wine
¼ cup cognac
Bouquet garni (1 sprig fresh rosemary, 6 parsley stems, 3 sprigs fresh thyme, and 2 dried bay leaves, wrapped together in kitchen twine)
2 quarts veal or beef stock
¼ cup tomato paste
Salt and pepper to taste
Horseradish crème (recipe below)
Set a large saucepan over medium-high heat. Pat the beef dry with a paper towel, and season with salt and pepper. Heat a few tablespoons of vegetable oil in the pan and, working in batches, brown the meat on all sides, about 15 minutes total. Remove the browned beef and set aside on a plate.
In the same pan over medium-high heat, add the onion, carrots, celery, and garlic. Cook until the vegetables start to gain color, about 2 minutes. Add the red wine, cognac, and bouquet garni, scraping the bottom of the pan with a wooden spoon or spatula to incorporate the meat scraps and juices. Lower the heat to medium and simmer until the liquid is reduced by half, 30 minutes or more. Stir in the veal stock and tomato paste. Lower the head to medium low, and simmer again until thickened, about 1 hour.
Preheat the oven to 300 degrees. Remove the pan from the heat, and place the preseared meat in a deep Dutch oven, and pour the wine mixture over it. Cover the pot, and place it in the heated oven for 3 to 4 hours, until the meat is very tender and easily comes apart with a fork.
Remove the pot from the oven and let cool, partially covered on the counter (until it's cool to the touch if you're storing it, or for 30 minutes or less if you're serving it immediately). Remove the meat from the braising liquid with a slotted spoon, and set it aside in a deep serving dish. Discard the bouquet garni. Strain the remaining liquid through a fine-mesh sieve, and pour it over the beef.
If you're serving the dish immediately, set it in a warm place on the stove until you're ready to eat. If you'd like to warm it more, do so over medium heat until the liquid barely simmers (you don't want to scorch it). Ladle a portion of beef onto each plate, and top with the sauce and a dollop of horseradish crème.
Horseradish Crème
½ cup crème fraîche or sour cream
2 to 3 tablespoons grated fresh horseradish (prepared horseradish may be used as a substitution; add to taste)
Salt and pepper to taste
Splash of lemon juice
Mix all the ingredients together in a medium-size bowl until everything is well incorporated. Adjust flavors to taste. You can make this a few days in advance and keep it in the refrigerator.
Subscribe to Washingtonian
Follow Washingtonian on Twitter
Follow the Best Bites Bloggers on Twitter at twitter.com/bestbitesblog
More>> Best Bites Blog | Food & Dining | Restaurant Finder