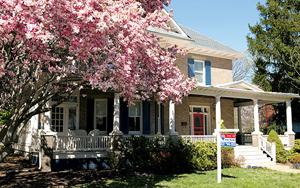 Higher prices in DC and the close-in suburbs have led some homebuyers to look at Frederick. "As long as you can keep up with the commute, the advantage of Frederick is lower prices," says Tom Greeves, who sells homes in the area. The market held steady last year and has been picking up in 2010.
Frederick has MARC and Amtrak service to DC's Union Station; a walkable downtown with shops, restaurants, and arts; historic homes; and a small-town feel.
Single-family homes range from $200,000 to $1 million. The historic district and Baker Park, near Hood College, are popular. While there hasn't been much new construction in downtown Frederick, several nearby communities have new single-family homes and townhouses.
Ballenger Creek Homes (659 Tivoli Rd.; 301-620-9967). Although construction on these three-level townhouses began four years ago, about 41 are left, ranging from $222,000 to $236,000.
Montrachet Condos (3030 Mill Island Pkwy.; 800-310-6489). Within ten minutes of downtown Frederick, these new condos are surrounded by parkland and have swimming, tennis, fitness, and banquet facilities. Available units start in the upper $200,000s and go up to the mid-$300,000s. Of 50 units, about 20 are still available.
Sun Meadow (Polaris Dr., Walkersville; 301-845-2990). Developed by K. Hovnanian Homes, this community is seven miles from downtown Frederick. Houses cost $293,000 to $375,000. Of 145 single-family homes, 22 to-be-built properties are still available.
Tuscarora Creek (Walter Martz Rd.; 301-620-9455). Single-family homes and townhouses are available for preconstruction sale at this planned community, which will include 250 houses and 260 townhouses by 2020. Prices start at $325,000.
Villages of Urbana (Sugarloaf Pkwy.). About 130 homes are on the market at this development, with 200 more to come this year. Townhouses are available for $252,000 to $389,000 through Ryan Homes (703-956-4000), NV Homes (877-585-4543), and Main Street Homes (301-831-8066). All three, plus Parkwood Homes (301-921-9361), also have single-family homes for $390,000 to $600,000.
The Vistas at Whittier (2270 W. Greenleaf Dr.; 301-682-3613). These single-family homes are less than five miles from I-70 and I-270. Amenities include basketball and tennis courts, three swimming pools, and a seven-acre lake. Prices range from $338,000 to $465,800. Ten lots are still available, and two new homes are also on the market.
Subscribe to Washingtonian
Follow Washingtonian on Twitter
More>> Open House Blog | Homes | Real Estate