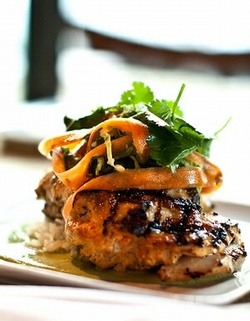 Chef Haidar Karoum's spice-grilled chicken isn't one of the most traditional Spanish dishes on Estadio's menu, but it is one of the most popular. Karoum marinates chicken thighs in a zesty yogurt blend overnight before grilling the meat, and it's served with a cilantro-spiked sauce and crunchy, bright slaw.
"I was craving Persian flavors," Karoum says of the dish's origin. "The south of Spain is like a mixing bowl of ethnicities—North African and Moorish—and it gave me the creative license to fit it in."
The ingredients don't require traveling far. Sambal, an Indonesian chili paste, is available at most supermarkets, as is labneh, a strained Lebanese yogurt, similar to Greek yogurt (Karoum recommends using the common Fage brand). The only trick in the recipe is to marinate the chicken at least 12 hours, if not overnight, to get the right tenderizing effect and balance of flavors. The meat will cook beautifully on the grill, or you can brown the thighs in a nonstick skillet and then finish them in a preheated, 400-degree oven for ten minutes. For the full Estadio effect, Karoum suggests serving it with any pilaf-style rice and, of course, a cold Spanish beer such as Moritz.
Estadio's Spice-Grilled Chicken
Serves 4
Prepare the chicken:
1 cup plain yogurt, such as Stonyfield
1 shallot, sliced
1 clove garlic
1 tablespoon sambal
2 tablespoons Madras curry powder
1 tablespoon salt
3 pounds boneless chicken thighs
Combine the yogurt, shallot, garlic, sambal, curry powder, and salt in a blender and purée until smooth. Pour over the chicken thighs and refrigerate 12 to 24 hours.
Make the salsa loca:

1 cup labneh, or any strained Greek yogurt
1 jalapeño
1 garlic clove
1 bunch cilantro

Combine all the ingredients in a blender and purée until smooth. (It can be made two days ahead, though the green color may start to fade.)
Make the slaw:
1 head napa cabbage, thinly sliced
1 carrot, thinly sliced
½ red onion, thinly sliced
10 mint leaves, roughly chopped
¼ cup cilantro leaves, roughly chopped
Juice of 1 lemon
2 tablespoons olive oil
Salt and pepper to taste

Mix the cabbage, carrot, red onion, and mint in a large bowl. In a separate bowl, combine the lemon juice with the olive oil. Toss with the vegetables and season to taste with salt and pepper.
Assemble the dish:
2 teaspoons olive oil
Salt to taste
Remove the chicken from the marinade and wipe away any excess. Season the chicken thighs with salt and drizzle with the olive oil. Grill over medium heat for about six minutes per side. (Alternatively, preheat the oven to 400 degrees. In a nonstick skillet over medium-high heat, brown the thighs on both sides, and finish in the oven.)
To plate, spoon about two tablespoons of salsa loca on each of four plates. Top with the grilled chicken and then the cabbage salad.
Related: