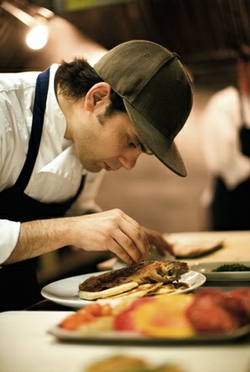 The James Beard Foundation announced its semi-finalists list (*PDF) this morning for its annual awards, the restaurant world's Oscars, that honor the country's best chefs and restaurateurs. Washington is well-represented; here's a rundown of our region's semi-finalists:
• Restaurateur Ashok Bajaj has a lot to be happy about. Not only is he on the list for Outstanding Restaurateur, but a number of chefs in his seven-restaurant group were honored as well. Nicholas Stefanelli from Bibiana was nominated for the Rising Star Chef of the Year award; Tony Conte at the Oval Room and Vikram Sunderam at Rasika are on the list for Best Chef: Mid-Atlantic.
• José Andrés also has reason to celebrate. He's a semi-finalist for the Outstanding Chef category, one of the nation's most sought-after awards, for his work at Minibar.
• Cathal Armstrong of Restaurant Eve, another nominee for Best Chef: Mid-Atlantic, also got a nod for Outstanding Service at Eve. And Armstrong's sommelier/mixologist, Todd Thrasher, is on the list for Outstanding Wine and Spirits Professional.
• In the Best New Restaurant category, Washington has two contenders in the race: Estadio in DC's Logan Circle and Kushi at Fifth and K streets, Northwest.
• Our white-tablecloth restaurants raked in other nominations: Bertrand Chemel (2941), Johnny Monis (Komi), and Peter Pastan (Obelisk) are on the Best Chef: Mid-Atlantic list. And Marcel's is with Restaurant Eve on the Outstanding Service list.
• In the biggest-surprise category is Huw Griffiths of Tabard Inn being named a semi-finalist for Outstanding Pastry Chef.
• Last but certainly not least, Frank Ruta's Palena restaurant in Cleveland Park is a semi-finalist for Outstanding Restaurant.
Related:
Subscribe to Washingtonian
Follow Washingtonian on Twitter
Follow the Best Bites Bloggers on Twitter at twitter.com/bestbitesblog
More>> Best Bites Blog | Food & Dining | Restaurant Finder