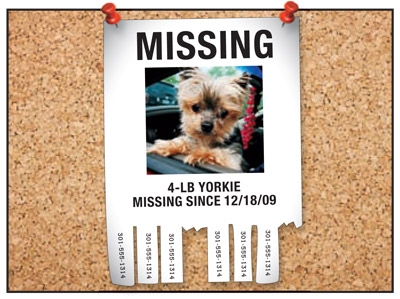 "Someone may have found Chloe." When Cheryl Caponiti relayed that message to her four daughters in December, the news seemed improbable at best. Nearly a year had passed since the family's then-12-year-old Yorkshire terrier disappeared from the yard of Caponiti's home in Clarksburg.
The family had gotten together that night—December 18, 2009—for their annual Christmas photo. When Cheryl's son-in-law arrived, Chloe ran to greet him.
"She was standing by the door, so I just let her out like I always did," says Cheryl's eldest daughter, Kristen, 27, who had a newborn and toddler in tow.
It was Kristen who, at age 13, had convinced her parents to get a dog by combing the classifieds for puppies and posting photos on the refrigerator. She'd helped pay for Chloe herself—as a puppy, the dog could fit in the palm of her hand. But 45 minutes after opening the door that December night, Kristen realized she'd forgotten to let Chloe back in. Snow had started falling, and the four-pound Yorkie was nowhere to be found.
"I had 'mommy brain,' " Kristen says. "My sisters all started to cry, and I was trying not to. But I knew it was my fault."
For the next two hours, the family went door to door asking if anybody had seen their dog. A neighbor brought his hunting dog over to sniff Chloe's bed, but the fresh dusting of snow made it hard to trail her scent. To make matters worse, she had run outside without her collar on.
"Christmas was really hard," says Cheryl, who often had Chloe on her lap. "A part of our family was missing."
They put up posters, sent fliers to veterinary hospitals, and placed an ad in the Gazette but never heard anything. "I didn't know how I was going to get through it," Cheryl recalls.
Eventually, she made peace with the fact that Chloe was gone and that someone must have picked her up that night: "I would just tell myself that if they're taking care of her and loving her, then she can bless their life."
Cheryl looked online for puppies in the hopes that a new dog would help comfort her. She found Zoe, another Yorkie, at a breeder in Pennsylvania and gave her the rhyming name as a tribute to Chloe. But she thought of Chloe all the time, especially on the 18th. "I counted the months," she says.
A year passed with no leads. On the evening of Friday, December 3, two friends sent Cheryl postings from the Café Montgomery listserv and the Montgomery County Lost Pets blog about a Yorkie that had been picked up in Germantown and brought into the Montgomery County Humane Society. The shaggy dog in the photo scarcely resembled Chloe.
"All I could see was her left eye, which had the cataract, and that her nose was scraped up," says Cheryl. She forwarded the photo to her daughters and ex-husband.
"Oh, my God," Kristen said, seeing the spots on the dog's nose. "That's her."
Kristen and her sister Lauren went to the shelter the next morning. The dog's fur was matted with dirt and infested with fleas, but they recognized the spot where she'd had teeth removed. Lauren went back on Monday with Chloe's dental records, and to the surprise of the vet technician, everything matched up. Lauren sobbed on the drive to her mother's house: They were bringing Chloe home.
"I was in shock," Cheryl says. "But when I heard her bark, I knew."
Chloe had lost her hearing and some fur, but her blood work came back nearly perfect even though she had pancreatitis and required antibiotics.
"For her to survive a year without her medication is a miracle," Cheryl says.
At home, Chloe remembered where her food was and started playing with her toys. She and her new buddy, Zoe, are still deciding who's in charge.
Says Cheryl: "It's like she's never been gone."
This article first appeared in the March 2011 issue of The Washingtonian.
Subscribe to Washingtonian
Follow Washingtonian on Twitter
More>> Open House Blog | Homes | Real Estate