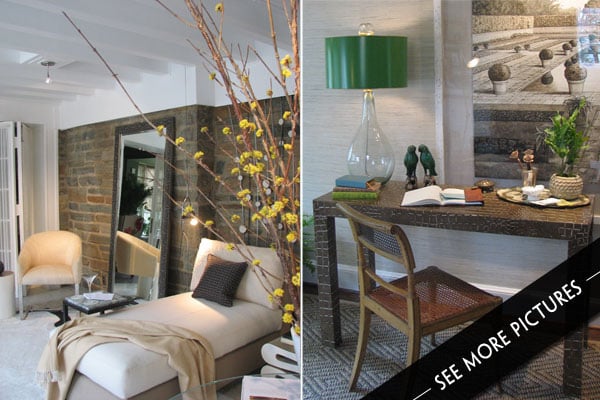 Members of the press got a preview of the DC Design House Friday, and with 12,000 square feet and 20 designers, it was a whole lot of inspiration to take in all at once.
The 1925 English Tudor in DC's Forest Hills neighborhood was originally built for Charles Woodward of the Woodward & Lothrop department store. It has a swimming pool, koi pond, and carriage house but has been sitting on the market nearly a year and was in dire need of some freshening up.
In stepped some of Washington's top designers. The house was dark, dated, and stuffy, they said, so their aim was to make it lighter and more livable. And while their individual styles varied, the transformation was for the most part a success.
The transition from one room to the next isn't as jarring as it can be in some showhouses, in part because a team of design advisers oversaw the projects.
Most designers chose light neutrals for the paint and wallpaper and selected furniture from a variety of periods, mixing antiques with new pieces. One common solution to the Tudor's oddly shaped rooms was to carry the wallpaper or paint color onto the ceiling to make the space feel both more cohesive and more intimate.
In the foyer, Liz Levin gave the traditional Oriental rug and chandelier a new twist, instead using a striking ikat rug from Timothy Paul Carpets & Textiles and a modern glass light fixture. She had the walls hand-painted in pale gray with a Moorish motif. The result is formal without being fussy.
In the stairway, Levin hung an André Arbus chandelier from Baker, which drew admiration from fellow designer David Mitchell: "I peed a little bit when I saw it," he said.
For his space, Mitchell created a comfortable, masculine bedroom. On the walls, he hung a set of reproduction bird prints that he found in Hudson, New York, and had framed in basic black. He arranged them in two rows so that the bottom of the first row and the top of the second created a horizontal line across the room—a way, he says, to give a display wall a more graphic look.
Perhaps the biggest showstopper was the dressing room off the master bedroom. Designer Iantha Carley covered the walls in a bright peacock-print paper by Nina Campbell. Because the pattern is so bold, Carley says, it made sense to use it in a space where the homeowner wouldn't spend a lot of time; that it can be enjoyed in small doses.
Samantha Friedman added a touch of whimsy to the teenage girl's bedroom she designed, where she hung a swing from the ceiling and framed it with a custom-made tree motif—an idea she'd wanted to use for about a year.
Downstairs, Nancy Colbert carried the lightness of Levin's foyer through to the library, where the walls are painted in Farrow & Ball Skimming Stone with a decorative glaze. Colbert found a set of hand-covered books to decorate the shelves and on the ceiling used a sparkly custom wallpaper.
Patrick Sutton tackled the living room, a huge space with a soaring ceiling. He had paint scraped off the original concrete fireplace and wood beams and brought down the scale of the room by using bookshelves and architectural elements that reach to where a normal ceiling would be.
In the family room, Barbara Franceski asked artist Dave Peterson to create a pair of modern ancestor portraits. The colorful paintings are fun and eye-catching, and Franceski managed to make them work with more formal furniture from a variety of periods.
There's more good design than we can describe here, so check it out for yourself. If you really like what you see, the house can be yours for $4.9 million. Unfortunately, that doesn't include the furniture.

The 2011 DC Design House is open to the public April 9 through May 8; tickets are $20 (click here to buy) and benefit Children's Hospital. Much of the furniture and artwork—mostly by local artists—will be for sale, with 20 percent of the proceeds going to Children's.
Subscribe to Washingtonian
Follow Washingtonian on Twitter
More>> Open House Blog | Homes | Real Estate