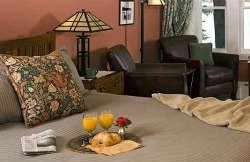 First things first: Just because the government might be shut down doesn't mean your weekend has to be. Yes, a federal hiatus will be bad for tourists planning to visit our city this weekend, and yes, national parks could very well be closed. But on the brighter side, with work schedules so up in the air, it could end up being a great time to get away for a day or two, and we have a few ideas below to get you started.
We heard a few months ago that the government was doing away with the old color-coded system for terror alerts (when it's orange for more than five years, people tend to stop paying attention). But are Facebook and Twitter alerts really the best replacement? As this Associated Press story explains, one system in the works will operate with only two levels of warnings, publicized through social-networking sites, and they'll expire on certain dates, "like a gallon of milk."
Looking for a quick getaway? One of our favorite B&Bs, the Lake Pointe Inn in McHenry, Maryland, is offering a special "tax break" deal nights booked Sunday through Thursday in April. A double-occupancy room is available for $185 per night, a 30-percent saving on the regular rate (and just right for an unexpected furlough day). Activities include kayaking, bike rides, and golf, and architecture buffs can visit two Frank Lloyd Wright-designed houses nearby: Fallingwater and Kentucky Knob. Visit the Lake Pointe Inn's Web site for reservations or more information.
Fancy seeing Snooki in her natural habitat? The oceanfront Berkeley Hotel on the Jersey Shore is offering standard king rooms for $109 per night next Monday through Friday, making it perfect for a trip to the shore (hopefully this week's sunshine will last a little longer). The hotel boasts a pool as well as the Dauphin Grille, its own seafood restaurant. Visit the Berkeley's Web site for reservations or more information.
And finally, if all the bodies clogging up the Cap Lounge this week have you frustrated, things could be much worse. Budget Travel looks inside ten of the smallest bars in the world, including one in Tokyo which is a mere 32 square feet.