What's an easy way to increase the value of your house? Replace your front door.
Remodeling magazine publishes an annual Cost vs. Value Report showing how much various projects add to a home's resale value. In the 2010–11 study, editorial director Sal Alfano noticed that inexpensive projects topped the list for best value.
"A new steel entry door was the only project with more than a 100-percent return," he says. "For $1,200 you can't beat it—you're getting a better-looking door and better insulation. Garage-door replacement was number two. Both are a really good bang for the buck."
Small remodeling—minor kitchen facelifts, new decks, vinyl windows, and new siding—are currently better returns on investment than big upscale renovations. That's because, Alfano says, the cost of upscale projects hasn't changed much even though house appreciation has dropped.
Additions have also decreased in cost recouped since 2008, as housing prices declined. Says Alfano: "No one is adding big chunks of space to their house these days."
But, he says, the report isn't meant to discourage homeowners from remodeling or adding on: "If you remodel your kitchen and sell the house five or ten years later, you've had the use of that new space all that time. That has a value we can't measure.
"One thing we suggest is to flip the numbers. If you've got something you'll get a 75-percent return on, it's only costing you 25 cents on the dollar to do that project. When you look at it that way, it's cheap."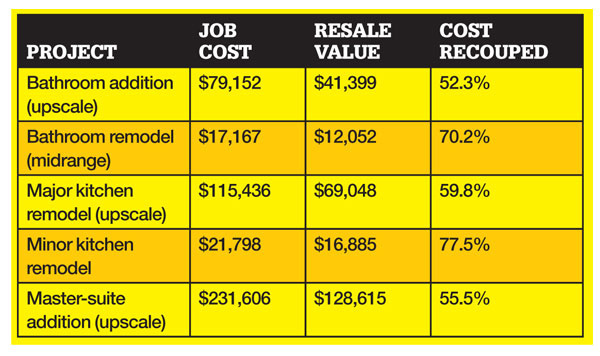 This article first appeared in the March 2011 issue of Washingtonian.com
Subscribe to Washingtonian
Follow Washingtonian on Twitter
More>> Open House Blog | Homes | Real Estate