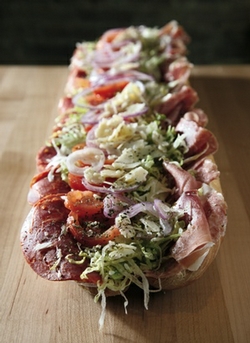 In the fall of 2012, the first phase of a 31-acre residential-and-commercial project in Merrifield, called Mosaic, is set to debut, and a number of big-name Washington restaurateurs are on board.
The very first restaurant lease was signed by Jeff Black, whose restaurant group includes Black's Bar and Kitchen, Black Market Bistro, BlackSalt, Addie's, and the forthcoming Pearl Dive Oyster Bar in DC's Logan Circle. "I liked the style of merchants [that developer Edens & Avant] were going after," Black says. "They're not going after the P.F. Chang's of the world."
Instead, the developer is aiming to keep Mosaic's culinary options to locally based businesses. Jessica Bruner, vice-president of leasing, says that it used to be that developers went after a chain like the Cheesecake Factory to lure other businesses. She says getting Black to commit was her Cheesecake Factory.
Mom's Organic Market, which currently has six locations in Maryland, has also signed a lease. The store will be in an area of the development called Market Street, and because it carries mostly produce and dry goods, it will be supplemented by specialty-food retailers that can give the street a European feel.
See Also:
Red Apron Butchery, which plans to open ten shops across Washington in the next few years, will provide a storefront with cured and raw meats, wine, and cheese. Neighborhood Restaurant Group owner Michael Babin says it will be his second Red Apron location; he's currently scouting locations for the first one. Babin also says he's thinking about committing to another project at Mosaic but wouldn't go into detail.
Other Washington-based businesses include Taylor Gourmet, which puts out Philadelphia-style sandwiches in Bethesda, DC's H Street, and at CityVista in downtown DC. The salad-and-froyo team behind Sweetgreen is planning to open, according to co-founder Nic Jammet, and Pete's New Haven Style Apizza—which has locations in Columbia Heights, Clarendon, and Friendship Heights—is "considering a storefront," says co-owner Joel Mehr. The sliders-and-pizza purveyor Matchbox signed a lease for 7,000 square feet. Already nearby are the Vietnamese restaurant Four Sisters and the Asian-fusion spot Sea Pearl.
As for Jeff Black, he's teaming up with chef Mallory Buford, a longtime colleague and friend; the two worked together with Bob Kinkead in the early '90s, and Buford is now filling in line-cook shifts at Addie's. Black says they haven't yet decided on a concept for their 6,800-square-foot space, but he knows what he won't do: "I don't want to replicate any of my restaurants," he says. "From a business standpoint, that's easy—you have the systems and design in place. But it takes the whole fun out of the process. There's a high probability [the restaurant] will have an oyster bar just because I love oysters." While developers often dictate what restaurateurs can and can't do, Black says Edens & Avant put in his lease just that "it'll be in the spirit of the Black Restaurant Group."
>>For more information, visit mosaicdistrict.com
Subscribe to Washingtonian
Follow Washingtonian on Twitter
Follow the Best Bites Bloggers on Twitter at twitter.com/bestbitesblog
More>> Best Bites Blog | Food & Dining | Restaurant Finder