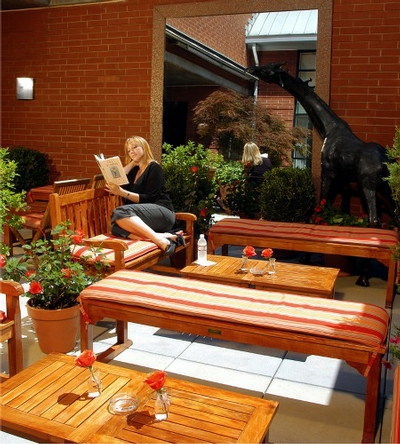 Longer days and budding flowers give everyone spring fever. It's a good time to get away and enjoy the outdoors. Here are great exclusive deals for Washingtonian readers.

SPRINGTIME IN NEW YORK
Hotel Giraffe, 365 Park Ave. S., New York, N.Y.; 212-685-7700
Located at Park Avenue South and 26th Street, the Hotel Giraffe is close to great dining, Union Square, and the Empire State Building. If you don't mind walking—and there's no better way to people-watch in New York—you can head to Times Square, Broadway, or Grand Central Terminal to see iconic landmarks. If you'd rather take the subway, it's two blocks away. This boutique hotel also has a rooftop patio for relaxing and a lobby for enjoying breakfast and evening wine and cheese.
The deal: Recharge your mind, body, and spirit with a culture-filled weekend and recharge your mobile devices with a free gift from Powermat. This Washingtonian exclusive includes overnight accommodations, a Powermat charging device mat and a power rechargeable backup battery—yours to keep, a value of $100—and 15 percent off standard promotional room rates. The rate after the discount starts at $263. Included is a European-style breakfast (bagels, hard-boiled eggs, fruit, yogurt, coffee), a nightly wine-and-cheese reception (except Sunday), and passes to the New York Sports Club. Book here, using the promotional code Washingtonian.
When: Valid April 1 through 30, 2011.
A CAPITOL SPRING
Washington Court Hotel, 525 New Jersey Ave., NW; 202-628-2100
If you're having company in town or want to play tourist yourself, Washington Court Hotel offers a great location. You'll be walking distance to the US Capitol, the Mall, Union Station, and restaurants. Some rooms offer a view of the Capitol. Cherry blossoms, daffodils, and other flowers turn Washington into a magical spring awakening. But you knew that.
The deal: The Up, Up and Away package includes a pink kite to fly among the trees, cherry-flavored edible bubbles to blow through the blossoms, and pink Wayfarer-style sunglasses to enjoy the rose-colored view. Also included are two Imax tickets (normally $9 each) that can be used at the National Museum of Natural History or the National Air and Space Museum. Mention The Washingtonian to receive a special cocktail—for adults, a cherry lime rickey; for the younger set, pink Shirley Temples with extra cherries. The rates start at $159 weekends and $229 midweek. Guests can choose either free valet parking or a $50 food-and-beverage voucher. Ask for the Up, Up and Away package at check-in. It's a savings of $60.
When: Valid through April 30, 2011.


SPRING BLOOMS ON THE CHESAPEAKE
Hyatt Regency Chesapeake Bay Resort, 100 Heron Blvd. at Route 50, Cambridge, Md.; 410-901-1234
On the banks of the Choptank River, this resort offers lots of amenities including golf, indoor and outdoor pools, a fitness center, and a luxury spa. During Easter weekend, kids can also enjoy an egg hunt and Happy Hop relay race. During spring-break week, April 15 through April 24, families can enjoy Iron Chef-style competitions, Olympic-style tournaments, face-painting and temporary tattoos, a moon bounce and slide, free chair massages, cookie decorating, and more.
The deal: The Spring Fever package includes overnight accommodations and a s'mores kit. Prices start at $159 a night Sunday through Thursday and $199 Friday and Saturday. Washingtonian readers who print out and show a copy of this article on check-in receive a complimentary $20 food-and-beverage credit for use during the stay. The package requires full prepayment, which is refundable if canceled 72 hours prior to stay. Use the code Fever1. It's a savings of more than 20 percent.
When: April 1 through June 10, 2011.

CHESAPEAKE BAY SUNSETS
Great Oak Manor, 10568 Cliff Rd., Chestertown, Md.; 410-778-5943
Great Oak Manor sits on 12 acres on the outskirts of the Colonial town of Chestertown. The inn has 12 elegant guest rooms, many with working fireplaces, private decks, and stunning water views. In the morning, you can enjoy breakfast in the dining room; in the evening, port and sherry are served in the music room. Other amenities include an 850-volume library, a pool, a business center, free wi-fi, and colorful gardens. Dining options abound in Chestertown and nearby Rock Hall. For recreation, Great Oak Manor is close to beaches, hiking and nature trails, boating, kayaking, golf, fishing, biking, art galleries, antique shops, historic sites, and garden tours. Great Oak Manor is a member of Select Registry, Distinguished Inns of North America.
The deal: Great Oak Manor is offering a Romance Package, which includes two nights accommodation, one in-suite couples massage, choice of Champagne or wine on arrival, and chocolates. Mention The Washingtonian and receive 20 percent off the package price. Couples who want to stay an additional night will receive 30 percent off the room rate for that third night. Rates for the package range from $391 to $599, depending on day of week and room type. This special is a savings of more than $270.
When: Valid through May 26, 2011.