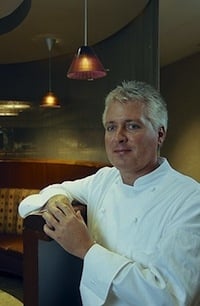 Corduroy chef/owner Tom Power purchased the building next to his Shaw eatery and plans to open a casual restaurant in the next year. Shortly after seeing a press release from the real-estate broker on the deal, Congressional Commercial, we spoke with Power on the phone about his plans for the place, at 1124 Ninth Street, Northwest.
The look of the space, which is 3,469 square feet, will be "down and dirty," says Power. "No dry wall, concrete floors, exposed brick, exposed steel." He says he wants to keep the prices low—"nothing over $18 or $20"—on the menu, which will include soups, salads, maybe grilled cheese, pizza, and a lobster roll. The press release quotes Power as saying he'll possibly serve "things like hot dogs from the New Jersey shore, pupusas, a steak, crispy salmon with refried black beans."
The deal went through April 11, and Power says he'll need a "solid ten to 12 months" to get the restaurant up and running. As for the name? He's picking another fabric: Velour.
Subscribe to Washingtonian
Follow Washingtonian on Twitter
Follow the Best Bites Bloggers on Twitter at twitter.com/bestbitesblog
More>> Best Bites Blog | Food & Dining | Restaurant Finder