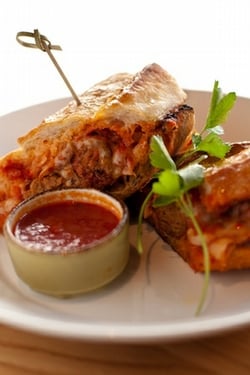 Meatballs are often tossed into the somewhat pedestrian Italian-American category of red-sauce cookery, but don't make that mistake around chef Amy Brandwein of the DC restaurant Casa Nonna.
"It's my hot-button topic," says Brandwein. " Polpette [meatballs] and a great pomodoro [tomato] sauce are an Italian creation, and they're beautiful when done with care."
Brandwein's lunchtime meatball panini—toasted bread piled with tender meatballs, tomato sauce, and melted provolone and Parmesan—are definitely made with care. Brandwein, a DC native, traveled extensively in Italy, where she picked up the three-meat formula—ground pork, veal, and beef—that she calls the "holy trinity of Emilia-Romagna cooking."
A frequent rule is to let a sauce simmer as long as possible, but Brandwein warns against overcooking the tomato sauce: You want the flavors to develop but don't want to lose the tomato's natural acidity to its sweetness, which will start to happen after the 30-minute mark. She also notes that it's important to taste both the sauce and meatballs—fry up a miniature meat patty to test them—while cooking.
You'll have leftovers from this recipe; the sauce and meatballs can be stored together in the fridge up to four days and in the freezer up to four months. Brandwein says good options for second incarnations are a pasta or pizza topping, or stuffed into a homemade calzone.
Have a recipe you'd like sniffed out? E-mail recipesleuth@washingtonian.com.
Casa Nonna's Meatball Panini
Makes 4 sandwiches
Make the tomato sauce:
2 28-ounce cans whole plum tomatoes, preferably San Marzano
3 tablespoons olive oil
2 cloves garlic, minced
3 basil leaves, torn into small pieces
1 onion, finely chopped
1 teaspoon salt
1 teaspoon black pepper
Drain the juice from the tomatoes, and then crush them by hand in a large bowl. Using your hands, remove as many seeds as possible.
In a large saucepan, warm the olive oil over medium-low heat. Add the garlic, basil leaves, and onions, and slowly cook until golden, approximately 15 minutes. Add the tomatoes, salt, and pepper. Simmer over medium heat for 25 minutes, or until the taste is sweet and slightly acidic. Set aside.

Make the meatballs:
1⁄3 cup chunks of country bread, crust removed
¼ cup whole milk
1 tablespoon butter
1 onion, minced
2 cloves garlic, minced
1 pound ground beef
1 pound ground veal
1 pound ground pork
1 cup grated Parmigiano-Reggiano
1⁄3 cup Pecorino Romano, grated
2 teaspoons chopped Italian parsley
1 egg
1 teaspoon salt
1 teaspoon pepper
3 cups olive oil
Flour, as needed
Soak the bread in the milk until the liquid has been absorbed, about 5 minutes, then squeeze out the excess. Melt the butter in a sauté pan over medium-low heat, add the onion and garlic, cooking until light golden in color. Remove from the heat and let cool. In a large bowl, combine the ground meat with the cooked onions, Parmesan, Pecorino, parsley, egg, softened bread, salt, and pepper. Shape into golf-ball-size balls. Dust the meatballs with flour, shaking off excess.
Preheat the oven to 350 degrees. Place the olive oil in a large frying pan over medium heat; wait until the oil "dances" in the pan, about 1 minute. Working in batches, sauté the meatballs until golden brown, approximately 2 minutes per batch (they should be raw inside). Place on a paper-towel-lined tray to remove the excess oil. Place the meatballs in a heavy-duty casserole pan, covering them with tomato sauce. Bake for 30 minutes, or until meatballs are tender.

Assemble the sandwiches:
2 baguettes or 2 ciabatta loaves, cut into 4 6-inch pieces
8 slices sharp Provolone (2 per sandwich)
8 tablespoons grated Parmigiano-Reggiano (2 tablespoons per sandwich)
Preheat the broiler. Place the bread in the oven to toast slightly, making sure it doesn't color, about 1 minute. Place 4 meatballs in each sandwich, covering them with tomato sauce, Provolone, and Parmesan. Place under the broiler until the cheese is melted and bubbly, about 1 or 2 minutes. Serve with a side of tomato sauce for dunking.
Subscribe to Washingtonian
Follow Washingtonian on Twitter
Follow the Best Bites Bloggers on Twitter at twitter.com/bestbitesblog
More>> Best Bites Blog | Food & Dining | Restaurant Finder