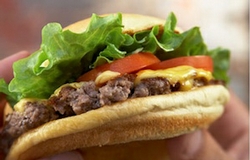 Happy Friday. This week's Wrap-Up is the soon-to-open edition, with news of new and revamped restaurants.
• Tom Sietsema of the Washington Post wrote on Twitter that the burger-and-custard joint Shake Shack, a New York import, is set to open in Dupont Circle Tuesday, May 17, at 11 AM. The Shake Shack outposts in New York such long lines that there's a "Shake Cam" on the Web site so customers can see how many people are currently waiting. Owner Danny Meyer will open another Shake Shack and three additional concepts in Nationals Park at the beginning of June.
• Another update, this one from the blog New Columbia Heights: Jackie Greenbaum's (of Jackie's and Quarry House Tavern) taqueria at 11th and Lamont streets, Northwest, should open its doors in July or August. The place will have 36 seats inside and 30 on the roof deck. This comes on the heels of El Centro D.F.'s opening yesterday; we took a look around the new taqueria on 14th Street.
• We learned via a press release that chef Spike Mendelsohn (Good Stuff Eatery; We, the Pizza; Top Chef alum) is set to roll out Sixth & Rye (@sixthandrye), a food truck with kosher-deli foods, at the end of the month. The truck, a joint venture with Sixth & I Historic Synagogue, will park in DC's Chinatown, Farragut Square, and Dupont Circle. Menu items ($2 to $12) include a hot smoked-corned-beef sandwich on rye, Israeli couscous, and potato chips.
• ArlNow tells us that the District Taco, a business that evolved from a food truck to a bricks-and-mortar restaurant in Arlington, has plans to open another storefront in DC. There are no firm details on location yet, but owner Osiris Hoil says he's hoping to open by the end of the year.
• More food-truck-expansion news from ArlNow: Sâuçà, which has four trucks rolling around DC, is opening a storefront at 4707 Columbia Pike, Arlington. Owner Farhad Assari estimates he'll start serving there by the end of this month. He also owned Meat Head Mobile and La Gloria Mexicana trucks but sold them to focus on his new restaurant.
• Mendocino Grille and Wine Bar, which closed in February because it was $80,000 behind in filing sales tax, may reopen by June, reports Georgetown Patch. The original owners, Eli Hengst and Jared Rager (they're also involved with Blue Ridge, Sonoma, and Redwood) will take full control of the place; they sold it to Troy Bock in 2009 but remained guarantors of the lease. Bock will no longer be a part of the Mendocino equation. Patch says that when it reopens, there'll be a different menu and lower prices.
• Metrocurean reports that Edan MacQuaid, a talented pizzaiolo who left Pizzeria Orso in March, is now consulting on pizzas at Ardeo + Bardeo.
• On Monday night, follow @beardfoundation for a live feed of the James Beard Awards ceremony. Washington has a number of chefs and journalists in the running for the highly coveted honors, including José Andrés, Komi's Johnny Monis, and Restaurant Eve's Cathal Armstrong (see the full list here). Bon Appétit's Andrew Knowlton predicts good things for our Mid-Atlantic region.
Subscribe to Washingtonian
Follow Washingtonian on Twitter
Follow the Best Bites Bloggers on Twitter at twitter.com/bestbitesblog
More>> Best Bites Blog | Food & Dining | Restaurant Finder