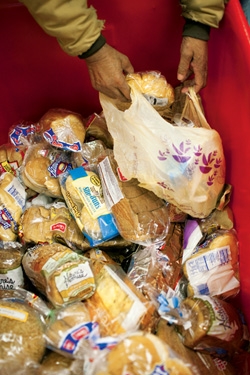 Community Foundation for Montgomery County
8720 Georgia Ave., Suite 202, Silver Spring; 301-588-2544
An affiliate of the Community Foundation for the National Capital Region, this county chapter helps donors establish charitable-giving funds. Some donors pool their money: A group of families from Bethesda and Potomac recently started a giving group with their teenagers and visited local nonprofits to decide where to donate their money.
Family Services
610 E. Diamond Ave., Suite 100, Gaithersburg; 301-840-2000
This 100-year-old social-service agency, home to one of the county's three Neighborhood Service Centers, runs programs in substance-abuse prevention, health and wellness, and more. Volunteers assist with administrative support, mentoring, and landscaping. (The agency provides housing for disabled adults.) Monetary donations or gift cards go toward food, baby formula, clothing, and medications.
Impact Silver Spring
825 Wayne Ave., Silver Spring; 301-495-3336
Founded in 1999 during the revitalization of downtown Silver Spring, Impact focuses on community development. Staff and volunteers have knocked on thousands of doors in Silver Spring and Wheaton, connecting residents to community services. They'll train volunteers who want to knock on doors.
Interfaith Works
7114 W. Montgomery Ave., Rockville; 301-762-8682
Interfaith's clothing center (751 Twinbrook Pkwy., Rockville) accepts gently used clothes and household items such as plates, silverware, and blankets and distributes them to 6,000 families every year. Volunteers can sponsor "layette drives" to collect diapers, bibs, rattles, and crib sheets for the Welcome Baby program, which provides mothers with necessities for newborns. The Friends in Action program pairs volunteers with families in need. Mentors sign on to work with a family for a year, helping with everything from learning English to writing résumés to creating budgets, and many stay longer. Program director Monica Barberis-Young often reminds mentors that she doesn't want them giving handouts. This is not about money, she'll say. It's about time.
Montgomery County Coalition for the Homeless
600-B E. Gude Dr., Rockville; 301-217-6660
Volunteers prepare and deliver hot or bagged meals to the men's emergency shelter, where the donation wish list includes cereal and milk, plastic utensils, T-shirts, trash bags, shower shoes, and socks. For clients in transitional- or permanent-housing programs, MCCH is looking for gift cards, tickets to cultural events, household cleaning supplies, toiletries, planners, and calendars.
A Wider Circle
9159-C Brookville Rd., Silver Spring; 301-608-3504
Ten to 15 low-income families, referred by a social-service agency, walk through this Silver Spring warehouse every day to pick out beds, couches, tables, and lamps. Some have been sleeping on the floor and keeping their clothes in plastic bags. They leave with furnished apartments. "They walk in and say, 'I've got to get that dresser—that dresser is so beautiful,' " says executive director Mark Bergel. "They shake because they're so excited." The organization accepts everything from air-conditioning units to high chairs and cribs. Donations should to be in good condition: no sofas with rips or lamps without shades. "We will come into your home, take it all for free, and distribute it all for free," Bergel says. "We get stuff from people who have more than they need to people who have nothing."
Subscribe to Washingtonian
Follow Washingtonian on Twitter