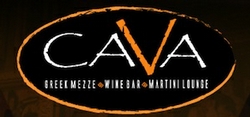 Cava fans, get excited. The team behind the trio of Greek restaurants (DC, Rockville, Bethesda) has another one in the works: Sugo Macaroni and Pizza Bar, an Italian tapas-and-pizza spot in Rockville's Park Potomac neighborhood, set to open in late summer.
"We didn't want to keep opening Cava [restaurants] and make it a big chain," says co-owner Ted Xenohristos, who's also working on a soon-to-open Clarendon Cava location.
While chef/co-owner Dimitri Moshovitis is still working on the menu for the 160-seat Sugo (it means "sauce" in Italian), Xenohristos says to expect charcuterie, Italian cheeses, and pizzas from a wood-burning oven. All are small portions, so diners can have a pie alongside a serving of pasta or secondi, such as Moshovitis's sous-vide short rib over risotto.
Sugo isn't the only restaurant opening in Potomac Park. Founding Farmers, now in downtown DC, will debut a second location near Sugo in fall 2011. The 200-seat space—which is hoping for LEED certification like the original—will have a some new menu items. The dishes are still in the works, but there'll likely be an emphasis on roasted meats and vegetables, house-made sausages, an entire section devoted to poultry, and more house-pickled and preserved items. Both Sugo and the new Founding Farmers will have outdoor patios with space for 30 to 40 diners.
Subscribe to Washingtonian
Follow Washingtonian on Twitter
Follow the Best Bites Bloggers on Twitter
More>> Best Bites Blog | Food & Dining | Restaurant Finder