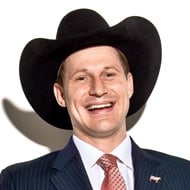 The ranchers and cattlemen who rely on Peterson to represent their interests have good reason to trust him. Peterson not only grew up on a ranch in Montana; he now owns and operates one in his hometown. That means the policies his clients care about also directly affect him.
Peterson founded Western Skies Strategies in 2007 when he was 26. He'd been director of government relations for another rancher group, but a change in vision there convinced him to look for another job. Some of that group's members asked Peterson if he would spearhead a new organization to represent them, and Western Skies was born.
Peterson splits his time between Montana and DC, where he's focused on such issues as antitrust reform for cattle producers and trade policy with other beef-producing countries.

This article appears in the June 2011 issue of The Washingtonian.