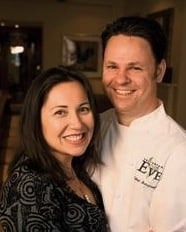 Cathal and Meshelle Armstrong (Restaurant Eve, Eamonn's, the Majestic) are opening their newest Old Town project, Virtue Feed & Grain, June 9, they tell Tom Sietsema of the Washington Post. While we've heard lots about the 250-seat former feed house, the Armstrongs divulged some menu items, including ham-and-cheese toasties, Buffalo wings, pigs' feet, and kidneys in red wine. Entrées will average $18. We've also heard rumors about a takeout window, fried chicken, and pool tables. The Armstrongs are also working on Society Fair, a bakery/butcher shop/wine bar, in Old Town at 277 South Washington Street.
Some openings to report this week: Luke's Lobster debuted in Penn Quarter yesterday (we've got a great roster of photos), Fry Captain—a truck dispensing French fries and milkshakes—returned Thursday after a long hiatus, Peregrine Espresso's 14th Street location started pouring coffee, 901 Restaurant & Bar is now open in Penn Quarter, and you can now get a pizza with a full chicken cutlet at National Harbor's Fiorella Pizzeria e Caffé (that's the one with the nine-foot Bacchus statute and a floating mozzarella trough).
The blog ARLnow.com has information on a few forthcoming restaurants in Arlington. Most exciting is news of Michael Landrum's next space at 1650 Wilson Boulevard in Rosslyn. While the permits used to have the name "The Lobster Pot" printed on them, they now read "Ray's Hell Burger III." Also: Cafe Pizzaiolo is opening another location in Shirlington Village; Jimmy John's Gourmet Sandwiches is coming to Ballston; and Padrino's Fine Italian Cuisine is going in at 3111 Columbia Pike.
Also coming soon: We got news this morning from a PR rep that Bobby's Burger Palace from celebrity chef Bobby Flay is opening at 2121 K Street, Northwest. This comes on the heels of a recent announcement that Flay is installing another location of that burger restaurant in College Park at a University of Maryland student center.
Subscribe to Washingtonian
Follow Washingtonian on Twitter
Follow the Best Bites Bloggers on Twitter
More>> Best Bites Blog | Food & Dining | Restaurant Finder