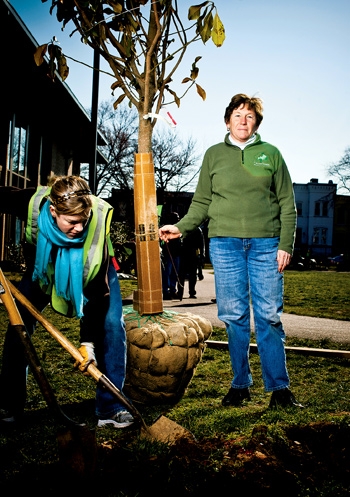 By the 1990s, DC was in danger of losing its nickname as the City of Trees. Disease, development, and budget shortfalls had created big holes in the District's verdant canopy. In 2001, philanthropist Betty Brown Casey gave $50 million to the Garden Club of America to support a nonprofit she had created two years earlier, dedicated to planting and protecting trees in the nation's capital.
Barbara Shea, a Garden Club volunteer with a background in finance and strategic planning as well as horticulture, became the first president of Casey Trees. "Mrs. Casey took a leap of faith and so did we," Shea says. "We started going out and talking to people. There was a lot of pent-up demand for planting trees."
The organization has planted nearly 10,000 trees throughout the city. Volunteers do most of the planting, and every community tree planting has a group committed to making sure the trees survive and thrive.
Two years ago, Casey donated her property in Berryville, Virginia, to become the group's tree farm. Shea is now president of the farm; her longtime volunteer colleague Nan King took over as president of Casey Trees.
In Berryville, the organization is growing many tree varieties, including American elms, which suffered in an epidemic of Dutch elm disease in the 20th century. Growers are researching varieties that do well in urban settings and planting trees from seeds, both to increase genetic diversity in local tree populations and to preserve native varieties.
But nothing gives Casey Trees greater satisfaction than the greenery all over town. "We always have a celebration," Shea says. "People love to give back. They love to be outside. When you transform a park with 650 people participating, you can see what you've done."

This article appears in the May 2011 issue of The Washingtonian.