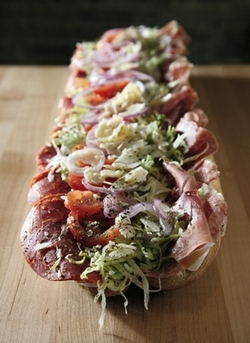 The local sandwich mini-chain Taylor Gourmet is expanding its reach with a fourth location: 1910 14th Street, Northwest, just north of T Street. Co-owner Casey Patten tells us that they just signed a lease for the historic townhouse earlier this week, although they've been in negotiations since late February.
The new place will have the same industrial-chic aesthetic as the other three shops—on H Street, at Fifth and K streets, and in Bethesda. Taylor Gourmet is also opening an outpost in Merrifield in fall 2012.
You'll also recognize the menu of Philly-inspired hoagies, salads, and Italian sides such as arancini. In the next few weeks, Patten will roll out new sides and sandwiches, including a take on a jalapeño popper—Italian cherry peppers stuffed with sausage, goat cheese, and gorgonzola—and an eggplant-Parmesan-style sub.
Like the other locations, customers can order delivery from the 14th Street outpost. "It allows us to go up to Columbia Heights," says Patten. "We get more requests [there] for a new store and delivery than we can field."
As of now, the project opening date is early-to-mid fall. In addition to getting through the always-frustrating permitting process, the owners need to do extensive work on the building: "I don't think it's been renovated ever," says Patten. "[We're going to] take an ugly duckling and put a tuxedo on him."
Subscribe to Washingtonian
Follow Washingtonian on Twitter
Follow the Best Bites Bloggers on Twitter
More>> Best Bites Blog | Food & Dining | Restaurant Finder