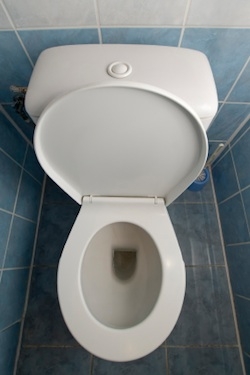 Your bathroom might be trying to hurt you.
According to the Morbidity and Mortality Weekly Report released yesterday by the Centers for Disease Control and Prevention, 234,094 bathroom-related injuries were treated in emergency rooms in 2008. The study, which looked at patients ages 15 and older, found that "injury rates increased with age, and most injuries (81.1%) were caused by falls."
Based on data collected from a sample of US emergency rooms, the study includes information such as the kinds injuries people sustain in the bathroom, the most common locations of injuries within the bathroom, and the events leading up to injury. The study analyzed more than 3,000 individual cases of bathroom injury, and the results were used generate a national estimate: 234,094 bathroom-related injuries annually.
The findings:
• Women are more likely than men to be injured in the bathroom.
• While falls are the most common cause of injury, concussions and cuts are the most common diagnoses.
• Heads and necks take the brunt of the injuries.
• Most injuries occurred in or around the tub or on or near the toilet.
• A more-than-you'd-imagine number of injuries—about 14 percent—occurred when standing up from, sitting down on, or using the toilet. Thirty-seven percent occurred when bathing or showering.
Subscribe to Washingtonian
Follow Well+Being on Twitter
More >> Health | Top Doctors | Well+Being Blog