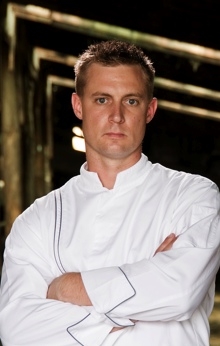 The biggest news of the week comes from the Washington Post's Tom Sietsema, who told us Thursday that chef Bryan Voltaggio has two restaurants in the works, both slated for next year. The first will be in Frederick, Voltaggio's hometown and the site of his first restaurant, Volt. The pending name for the 10,000-square-foot space is North Market Kitchen, and it'll have a large dining room, a store, and "exhibition kitchen" with stations for pasta, raw seafood, cheese, baked goods, and rotisserie meats. Voltaggio was inspired by New York's Eataly, backed by Mario Batali. Closer to DC will be a bistro/steakhouse hybrid in Chevy Chase Pavilion, also home to a Cheesecake Factory. Voltaggio's 220-seat restaurant will have an open kitchen and "whole animal usage." (Sietsema also mentioned his upcoming cookbook, which we previewed here.)
Also from the Post: an update on a long-rumored Flip Burger outpost from Richard Blais, who won Top Chef All Stars. The Atlanta-based chef told Tim Carman that Washington is still an option for him, but his initial lease negations didn't work out. He said he's "close to signing a letter of intent for a new space" but wouldn't mention location specifics. Blais hopes he can start slinging patties by the end of this year.
Last weekend, we learned via a press release that TenPenh in DC's Penn Quarter is closing its doors June 30. Its parent restaurant group, PassionFood Hospitality, said it couldn't work out an agreement with the landlord. The restaurateurs mentioned there's a possibility of relocation, but for now, they're focusing on their two upcoming projects: District Commons and Burger, Tap & Shake.
Washington Business Journal reporter Missy Frederick wrote this morning that the now-closed Arlington bar Dr. Dremo's might resurface. She received an email from Andrew Stewart, who's related to the former owners, saying that he's looking to raise $350,000 from investors for a 6,000-square-foot space in Clarendon. Dremo's closed in January 2008.
Prince of Petworth spotted a liquor-license application in the windows at 427 11th Street, Northwest, with the restaurant name Elisir on it. Chef Enzo Fargione, who used to work with Roberto Donna and had a brilliant but short-lived stint at Teatro Goldoni, is behind the project. The application says "European flares." Wonder what that means?
Speaking of spotting liquor-license applications, we saw one outside of the construction site at 15th and P streets, Northwest, saying that Tortilla Coast, a Capitol Hill happy-hour favorite for Hill staffers, is setting up shop in the corner building, most recently a paint store.
So maybe this isn't really food news, but it's a fun tidbit of information that came out this week: in a countrywide tap-water tasting, DC made it into the top 25. Does anyone out there think our tap water is delicious? (I can confidently say I don't.)
Subscribe to Washingtonian
Follow Washingtonian on Twitter
Follow the Best Bites Bloggers on Twitter
More>> Best Bites Blog | Food & Dining | Restaurant Finder