Co-owner Rob Shelton has been "playing with the angles" of what will eventually be a coffee bar. Photo by Rebecca Cooper
It's not necessarily a scene you expect to see inside a gelato shop getting ready to open in the Washington area. Swarms of contractors installing cutesy fixtures and painting pastel colors? Naturally. A sweaty entrepreneur blasting Slayer while doing his own sanding? Color us intrigued.
Boccato Gelato co-owner Rob Shelton is here alone, inside his soon-to-open Alexandria store, "playing with the angles" of what will eventually be the coffee bar. He's basically been living at the King Street space for the past two month as he builds out the second location of his and co-owner Cristian Velasco's thriving Arlington gelato and coffee business.
Breaking out of its oppressively crowded, 280-square-foot space in Clarendon has always been the game plan. Did Shelton necessarily want to open a new 1,300-square-foot location in Old Town and sign a lease for the 3,100-square-feet of former El Chapparal space attached to the Arlington store almost simultaneously? Maybe not. But he'll take it.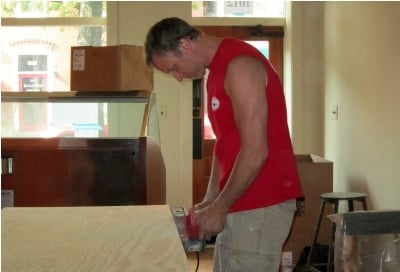 "I'm just so happy to have seating," he says. For three years, Boccato's seating amounted to a park bench on one side of the sidewalk, and some boards stacked on milk crates on the other. Deals to take over the adjacent Wilson Boulevard space were in the works but never materialized.
Shelton grew up in Alexandria, so Old Town was a natural fit. "It's going to be so beautiful," he says of the faint-orange and brown space, which is set to be filled with rusted steel baseboards, a fleet of unmatched stools and an awful lot of freezers. The store should open the first week in July, if all goes according to plan.
Boccato in Old Town will pretty much stick to the Clarendon program: their copious flavors of house-made gelato and Stumptown coffee. (It'll create a "friendly competition" with longtime Old Town coffeeshop Misha's around the corner, Shelton says.)
They're adding pastries from Buzz Bakery, and maybe someday, empanadas, according to Shelton. With its "1950s beach shack feel," Boccato "will bring a different flavor to Old Town," he says. Shelton spent more than a decade in Huntington Beach, California, which might explain his decidedly un-DC vibe. "It's going to be a really cool, mellow spot," he says of the Old Town store.
Having seen the line from the Clarendon shop snaking down the block on any given summer evening, I'm somewhat skeptical. But they're planning to combat the potential for madness by maintaining a flow through the store that brings patrons in a front door and out a side door, Shelton says.
The amount of work going on in Alexandria means the Boccato team is not in a huge rush to open the other new store in Arlington, but they'll be breaking from the mold a bit once they get going there. Likely to be called Jibe City, after a bohemian windsurfing town on Bonaire Island, the owners are going for a Tryst-like vibe at the space (a trend that seems to be everywhere now). Expect beer and wine, more mismatched furniture, and pastries from Buzz. That spot could open by September or October.
Subscribe to Washingtonian
Follow Washingtonian on Twitter

Follow the Best Bites Bloggers on Twitter
More>> Best Bites Blog | Food & Dining | Restaurant Finder