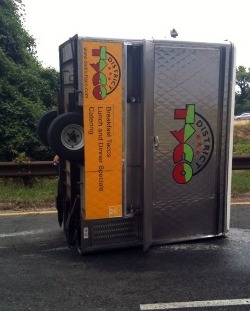 In Tom Sietsema's chat this week, he broke the news that two notable new restaurants have lost their opening chefs: Nick Sharpe, formerly of Ba Bay, and Miles Vaden, once the chef de cuisine at Fabio Trabocchi's Fiola. Sietsema didn't divulge much on the latter, but we learned that Sharpe—who helmed the kitchen at Sonoma before opening the modern Vietnamese eatery in November—was lured away by prospects with a San Francisco-based restaurant group in early June. In the kitchen now is owner Khoa Nguyen, sous chef Sara Siegel, and Nguyen's 83 year-old-grandmother, Hoa Tran, who's helping steer the menu toward more traditional family dishes. Fans of the crispy autumn rolls and banh mi, fear not: While the majority of the menu will change in the coming weeks, certain staples such as those two are staying.
If any chef has been in the spotlight this week, it's Mike Isabella, who opened his Italian-inspired restaurant, Graffiato, Thursday (don't miss our preview and pictures of the food). Tim Carman over at the Washington Post disclosed the latest details about Isabella's upcoming cook book, Flavors From a Jersey Italian, filling us in that Alinea at Home blogger Carol Blymire is writing the copy that goes along with the collection of 125 recipes. Is she put off by the Jersey bravado? Not at all. The author tells Carman, "I dig the guy. He's got a big heart and is a pretty phenomenal cook." In her words: "blammo—done deal."
The Washington City Paper learned that Teasism is opening a fourth location. There's no word on exactly when bento boxes and salty-oat cookies will arrive at the Moderno condo building at 12th and U streets, Northwest, but Young & Hungry confirms the teahouse mini-chain has signed a lease.
Prince of Petworth has the details on a vandal wearing a black ensemble and ski mask who threw bricks through windows at Columbia Heights watering holes Room 11 and Meridian Pint around 2:30 this morning. Though there's damage at both properties, no employees were hurt. Pictures of the brick this way.
In other sad food news, in case you missed it in the Morning Links, TBD reports that the District Taco truck flipped over on Lee Highway en route to Crystal City after a tow hitch broke. No one was inside the cart, but it was stocked with taco toppings. Restaurant owners, take note: you may have to pay taxes, but your walk-in fridge will never sit on the highway for hours coated in beans and guacamole. The truck is cleaned up and back on the road today.
And in actually devastating food news, Capitol Hill dive bar favorite Tune Inn suffered a fire early Wednesday morning. The Washington Post has details on what was destroyed (the entire kitchen) and what was salvaged (irreplaceable dive-bar memorabilia such as taxidermied animals). Plans are already underway to rebuild, and you can check the bar's Facebook page for updates and upcoming fundraisers.
Subscribe to Washingtonian
Follow Washingtonian on Twitter
Follow the Best Bites Bloggers on Twitter
More>> Best Bites Blog | Food & Dining | Restaurant Finder