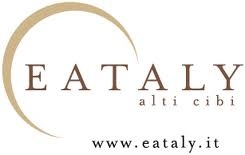 Eataly, the behemoth Italian food megastore/multi-restaurant spot in New York, is coming to DC as early as next year, the Huffington Post reported Tuesday. The co-owners of Eataly (one of which is Mario Batali) say their next two outposts—there's also one planned in Los Angeles—will be bigger than the 40,000-square-foot original. No word yet on where the DC location will be, but if the real-estate agents want our opinion, we think Penn Quarter would work with its heavy foot traffic and already-established food scene. A few weeks ago, Volt chef/owner Bryan Voltaggio told the Washington Post that he's opening the tentatively named North Market Kitchen in Frederick and said he's modeling that new project on Eataly. HuffPo talked to Voltaggio about the Eataly announcement, and the Top Chef runner-up said his 9,500-square-foot space will be unique in its focus on local food, sourced from within 200 miles of Frederick. This fall, Restaurant Eve chef/owner Cathal Armstrong will open another food-hall-type space, Society Fair in Old Town.
Cork wine bar on DC's 14th Street will start serving Sunday brunch next weekend, the Post's Tom Sietsema wrote on Twitter Wednesday. Metrocurean followed up with the menu, which includes pastries (bacon-cheddar scones, pan-baked cinnamon rolls) and hot plates (juniper gravlax with a potato-apple cake, savory bread pudding with speck and cheese, coddled egg with garlic-roasted rock shrimp, and brioche French toast with orange ricotta). Add Sunday morning to the list of times when you have to wait an hour for a seat there.
A couple openings to report this week: José Andrés's America Eats Tavern, a six-month project in conjunction with the National Archives' "What's Cooking, Uncle Same?" exhibit, started serving its Irma Rombauer-era dishes Monday in the renovated Café Atlántico space. (Tim Carman of the Washington Post talked to Andrés and the ThinkFoodGroup team about the future of America Eats, Café Atlántico, and its crown jewel, Minibar). Tomorrow, Cava's Clarendon location—the largest of the Greek-tapas houses—will open its doors after a number of delays; Eater has some pictures and more details.
Via the Young & Hungry blog, we learned about yet another food truck in Washington: That Cheesecake Truck, which debuted this week and is the mobile offshoot of the Sweetz Cheesecake shop in Montgomery County. You can follow the truck, which is licensed to drive around DC, on Twitter at @cheesecaketruc.
Subscribe to Washingtonian
Follow Washingtonian on Twitter
Follow the Best Bites Bloggers on Twitter
More>> Best Bites Blog | Food & Dining | Restaurant Finder