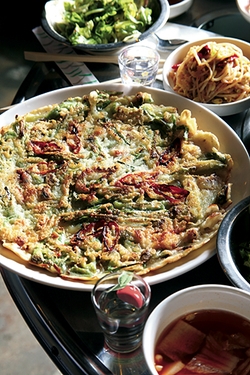 Fast Gourmet
1400 W St., NW; 202-448-9217
You've hit the bars and danced the night away—now you're hungry. Thanks to a growing number of places offering high-quality late-night eats, you no longer have to settle for a jumbo slice of pizza.
U Street revelers have several options, but none so satisfying as Fast Gourmet, which is in a gas station and open till 5:30 am on Friday and Saturday. Sandwiches on organic bread include the chivito, a slice of juicy beef tenderloin topped with ham, bacon, egg, mushrooms, and green olives. The eggplant fries, the lamb wrap, and the Cuban sandwich are also terrific.
Honey Pig
Honey Pig, 7220 Columbia Pike, Annandale, 703-256-5229; 13818-B Braddock Rd., Centreville, 703-830-5959; 10045 Baltimore National Pike, Ellicott City, 410-696-2426
Open around the clock most days, Honey Pig has earned a reputation as a place to end the party—or keep it going. Beef bulgogi, seafood pancakes, and pork belly with kimchee are among the excellent Korean dishes that can be washed down with beer or soju. (Alcohol is served until 2 am.) If you think you'll need more than aspirin in the morning, order the hangover soup.
Hollywood East Cafe
Westfield Wheaton Mall, Wheaton; 240-290-9988
Many people love Hollywood East Cafe for dim sum brunch, but it's also a reliable late-night spot. The extensive menu is available until 1 am Friday and Saturday. Try the fried honey-walnut shrimp, the chicken casserole with Chinese mushrooms, or the Hong Kong–style dumplings in a spicy sauce.
This article appears in the July 2011 issue of The Washingtonian.