Chefs are shaping all sorts of ingredients into burgers. Beef isn't going anywhere, but there are lots of other ways to get your patty fix.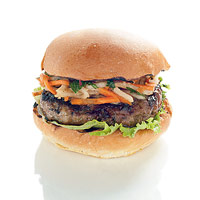 BEST ASIAN TWIST
Ray's Hell-Burger Too
1713 Wilson Blvd., Arlington; no phone
Leave it to meat maven Michael Landrum to make a delicious hybrid of a burger and the area's hot sandwich, Vietnamese bánh mì. The delicious outcome at his Ray's Hell-Burger Too, the "Hanoi style" patty, marries juicy wild-boar meat with pickled daikon and carrots.
BEST TASTE OF GERMANY
Birch & Barley
1337 14th St., NW; 202-567-2576
Birch & Barley has a German beer hall in its DNA, so it's fitting that chef Kyle Bailey's burger is made of pork butt, pork fatback, and veal shoulder. Spiced with ginger and nutmeg, it's topped with Emmentaler cheese and house-made sauerkraut—and there are more than 500 beers to pair with it.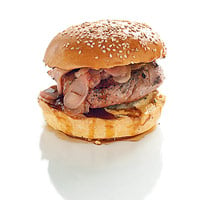 BEST IF YOU'RE WATCHING YOUR WEIGHT
BGR the Burger Joint
multiple area locations
The calorie-counting set should zero in on the ahi-tuna option at BGR the Burger Joint. It includes a slab of fish whose sweet garnishes—grilled pineapple and teriyaki sauce—are offset by pickled-ginger shavings.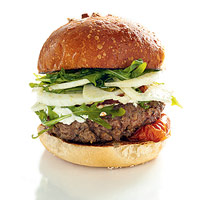 BEST TRIP TO GREECE
Liberty Tavern
3195 Wilson Blvd., Arlington; 703-465-9360
The menu at Liberty Tavern couldn't feel more American: There's a Maine lobster roll, a Pittsburgh Primanti Bros. sandwich, and that Mad Men–era favorite, beef stroganoff. But when it comes to the tasty lamb burger, chef Liam LaCivita looked to the Mediterranean: It's garnished with shaved fennel, oven-dried tomatoes, and goat cheese.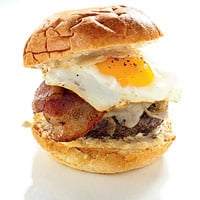 BEST HANGOVER CURE
Cashion's Eat Place
1819 Columbia Rd., NW; 202-797-1819
The secret to the fried-egg-topped bison burger at Cashion's Eat Place lies in its "comeback" sauce, a Mississippi-born condiment not unlike spicy Thousand Island dressing. The sandwich is available when a drinker would want it most: on the late-night menu (Friday and Saturday from midnight to 2 am) and at Sunday brunch.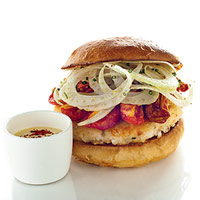 FIRST-RATE FISH BURGER
Westend Bistro
1190 22nd St., NW; 202-974-4900
Chef Eric Ripert is renowned for his New York seafood palace, Le Bernardin, so it's no surprise that one of the best things at Westend Bistro, the casual DC restaurant he oversees, is a fish burger. The patty, made from ground and diced wild striped bass, is served on a brioche bun with slices of fennel and roasted tomato plus saffron aïoli.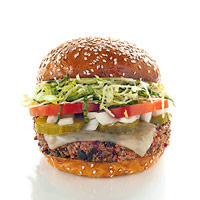 BEST VEGGIE OPTION
Woodmont Grill
7715 Woodmont Ave., Bethesda; 301-656-9755
Veggie burgers get a bad rap—too sweet, too health-foody—and it's often deserved. Not so the version at the Woodmont Grill, which treats a black-bean-flecked patty like a regular burger, with mustard, shredded lettuce, and a sesame bun. It's had a cult following for years, starting when the restaurant was known as Houston's.
This article appears in the July 2011 issue of The Washingtonian.
Subscribe to Washingtonian
Follow Washingtonian on Twitter
Follow the Best Bites Bloggers on Twitter
More>> Best Bites Blog | Food & Dining | Restaurant Finder