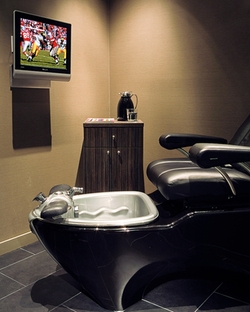 Grooming Lounge
1745 L St., NW, 202-466-8900
Tysons Galleria, McLean, 703-288-0355
The Grooming Lounge is a "guy's guy" kind of place, and it manages to be neither informal nor stuffy. While you wait for your treatment, you can relax in leather seats and enjoy coffee, ice water, soda, or something more potent such as beer.
At the Tysons location, we got the Super Stoner Massage ($150 for 90 minutes), which is less intense than a Swedish or sports massage but also more relaxing. We drifted away as the therapist did a thorough back rubdown and then massaged individual muscles while palming heated, flat rocks. She also offered helpful tips for avoiding muscle tension and back pain.
Bottom line: A spa that lets men be men.


This article appears in the July 2011 issue of The Washingtonian.