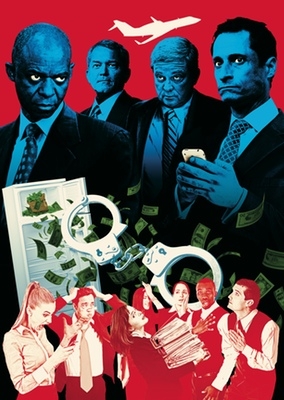 Matthew Parker sensed that the battle was finally over in the summer of 2006. He had devoted nearly five years to working for Representative Bob Ney, the Ohio Republican who had taken a chance on him when he was a 20-year-old kid, giving him a full-time job before he'd even graduated from college.
The congressman had become Parker's mentor and close friend. The two bought houses across the street from each other in Ohio and spent long hours working at Ney's kitchen table. As a part of the congressman's inner circle at such a young age, Parker had been consumed by the power of it all. Now everything was falling apart.
Parker had been inspired to go into public service after the September 11 terrorist attacks. During his junior year at Marietta College in Ohio, he landed a White House internship. Days before he moved to Washington in January 2002, his uncle happened to sit next to Ney—who had been elected to the House in 1994—at an event where he and the congressman were guests. Parker's uncle told Ney about his nephew and gave him Parker's phone number.
Soon Parker got the call that would change his life. "As a young kid, I'm getting a call from a US congressman telling me, 'If I can ever do anything for you while you're in DC, let me know,' " he says. Parker worked up the nerve to ask Ney if he could ride with him from DC back to Ohio sometime. Ney's home at that time was in St. Clairsville, where Parker's fiancée lived. Ney agreed, and when Presidents' Day Weekend arrived, Parker found himself making the trip with Ney in a Lincoln Town Car.
Ney then called Parker to offer him an internship on the House Administration Committee—which Ney chaired—once Parker was done with his White House internship. Parker was thrilled, and he was about to get an even bigger opportunity. Ney had an opening for an executive assistant. Three days into his committee internship, Parker got the job.
"I'm 20 years old, and I'm the executive assistant to a powerful member of Congress," he says. "Like that. Overnight. It was crazy."
By January 2006, his dream job had become a nightmare. Parker's marriage was suffering. He was on prescription drugs for stress-induced heartburn. He had nearly $50,000 in legal bills.
One afternoon in July of that year, Parker says, he and Ney drove to a wooded area in Heath, Ohio, where they lived. Parker had recently testified before the grand jury that was looking into Ney's involvement in lobbyist Jack Abramoff's influence-peddling scheme. Ney was being staked out by reporters and photographers, and prosecutors had advised Parker not to contact Ney about the case or he could be charged with obstruction of justice. The meeting had to happen in secrecy.
Parker was convinced that Ney was about to go down on corruption charges, and he felt he owed it to his boss to warn him. "We got out of the car and walked and talked," Parker says. "I said to him, 'I think this thing's over. I think that you're going to jail.' "
Parker was right—Ney would be sentenced in January 2007 to 30 months in prison. Parker's own fate was much less certain. At 25, he would soon be out of a job, with a mortgage he was already struggling to pay, and the name Bob Ney would be a stain on his résumé.
For the nearly 17,000 staffers in Congress, life on the Hill comes with risks. Senators and House members work long hours alongside their aides and often travel and socialize with them. The relationships they form can lead to stress, legal exposure, and damage to reputations for staffers when their bosses are accused of wrongdoing.
Mike Lynch, who was California representative Gary Condit's chief of staff when Condit was investigated in the 2001 disappearance of Chandra Levy, describes the experience: "You know when you wake up and something happens, and it's like it can't get worse than this? The next day was worse, and it was like that for the next six months, the next nine months. It always got worse."
Lynch, who now has his own consulting business in California, says he incurred about $10,000 in legal bills during the Levy investigation. (Condit was cleared of any involvement in the matter.) Some lawyers who specialize in congressional investigations say that when aides start working on the Hill, they should plan to set aside money for legal bills or consider getting an insurance policy that could cover the costs.
Staffers often need legal counsel even if, like Lynch, they aren't personally accused of wrongdoing. It's not always clear whether investigators are interested in staff as potential targets or just as witnesses, and sometimes it takes lawyers to help figure that out. And aides who are called as witnesses or subpoenaed for documents often need lawyers to help them navigate the process.
"I've seen staff assistants who were just witnesses incur upwards of $5,000 in legal expenses," says Elliot Berke, a partner at McGuireWoods who worked in both former House majority leader Tom DeLay's and former speaker of the House Dennis Hastert's offices while they were involved in investigations.
Stefan Passantino, a partner at the law firm McKenna Long & Aldridge who represents congressional aides in investigations, says he tells clients that involvement in such scandals "is simply a rite of passage of being a staffer on the Hill for more than just a few years."
Next: A setback is a blessing in disguise
Like Matthew Parker, Melanie Roussell wasn't interested in politics until a history-making event changed her mind. She was a senior at Florida A&M University in Tallahassee when the 2000 Florida ballot recount hit.
"I was angry—really angry," Roussell says. She organized protests of the election results and coordinated events for the many members of Congress converging on Tallahassee. An alumnus from her school who worked for the Congressional Black Caucus was in town and suggested that Roussell apply for an internship with the caucus. She did and got an internship with Democrat William Jefferson from New Orleans, her hometown. She had no way of knowing that within four years the FBI would find $90,000 in marked bills in Jefferson's freezer and he would be implicated in a bribery scheme to set up business ventures in Africa.
From the beginning, Roussell says, Jefferson took a personal interest in her career. He hired her as a staff assistant after she graduated in 2001. When Roussell grew bored, he offered to help her find a job doing what she loved—media relations.
New Orleans had just elected its first new district attorney in 30 years. Jefferson knew the DA and encouraged Roussell to apply for a press job in his office, though it would mean she'd have to move back home. "He called me at my apartment and stayed on the phone with me for two hours convincing me to interview for the job in the DA's office," says Roussell. "He sat in on my interview and negotiated my salary. He was my agent."
After a year working for the New Orleans district attorney, Roussell returned to Capitol Hill as Jefferson's communications director. By the summer of 2005, she was one of the longest-serving aides on his staff. She heard that Jefferson was planning a trip to Ghana and would be taking an aide along. Though Jefferson traveled to Africa frequently—African trade and investment issues were his specialty—he had never invited her. As an African-American, Roussell says, she had always wanted to visit the continent of her ancestors, so when she learned that Jefferson was taking a newer staffer, she was irate.
That trip became a focus of the prosecution's case against Jefferson. His lawyers sought to prove that in setting up business ventures in West Africa, Jefferson was acting not in his official capacity as a member of Congress but only as a business consultant and thus wouldn't be covered by the federal bribery law. Prosecutors argued that Jefferson's decision to bring one of his congressional aides showed he was acting in his role as an elected official while carrying out corrupt business dealings.
Roussell had unknowingly avoided trouble. "I was never called to be a witness," she says. "I was never subpoenaed, never questioned—none of that—which was a blessing. Everyone on that Ghana trip was subpoenaed."
Weeks after the trip, on August 3, 2005, Roussell arrived at the office and was greeted by two colleagues who told her to sit down—they had news. Roussell thought she was about to learn that Jefferson was dead. Instead, the aides told her that Jefferson's homes in Washington and New Orleans had been raided by the FBI and that agents were downstairs searching his car.
"I was completely blindsided," says Roussell. "But having come from the DA's office, I was also sort of prepared for prosecution-type communications. So my immediate reaction was 'This is something I can handle.' "
She crafted a statement with the help of the congressman's lawyer, and she did her best to field the questions flooding in from national news outlets.
Another crisis was just weeks away. Hurricane Katrina was about to obliterate Jefferson's district and Roussell's hometown, where her family still lived. Roussell's life would get more complicated than she could have imagined.
The levees broke on August 29, 2005. In the aftermath, Roussell worked seven days a week, often past midnight. She was handling her usual press responsibilities but also registering constituents with the Federal Emergency Management Agency, taking calls about lost loved ones and sending information to the Red Cross about missing people.
"I had to tell [the congressman], 'Your district is underwater, people are dead, and we don't have local news in the district. So I need you to get on MSNBC and tell people that it's going to be okay.' "

Roussell's parents lived in New Orleans's Ninth Ward, and the entire first floor of her childhood home was destroyed. She knew her parents had made it to a hotel, but she didn't know if they had food and water. While filling out missing-persons reports for the Red Cross, she completed one for her best friend's brother. "I had known him my whole life," Roussell says. "I was terrified."
The last thing she needed was to babysit her boss, but she says that was also one of her responsibilities: "The congressman seemed distracted and consumed by the investigation. I had to tell him, 'Your district is underwater, people are dead, and we don't have local news in the district. So I need you to get on MSNBC and tell people that it's going to be okay.' " (Through his lawyer, Jefferson declined to comment for this story.)
The press didn't relent in its coverage of the criminal investigation. Roussell remembers sitting in on an interview Jefferson was giving in his office to a reporter "for what was effectively a political obituary" and finding him lying down, stretched across his couch. "He did the entire interview like this," she says.
Roussell says Jefferson told her repeatedly that he had "an honorable explanation." She said she didn't want to hear it. The House General Counsel's office had told Jefferson's staff not to talk to him about the investigation, lest they learn information that could turn them into witnesses.
Roussell assumed she would hear Jefferson's explanation when he had his day in court, and she believed he was innocent. "For a long time I was outright indignant," she says.
Roussell was convinced the experience she was gaining was worth the stress, and she wasn't worried about how being the spokesperson for someone who could end up in prison might hurt her own reputation. "I didn't do anything wrong," she says. "I was doing my job. If anything, it was easy for me to recognize that dealing with national press on this level had to be good for my career."
Next: Remembering when Mark Foley's career crashed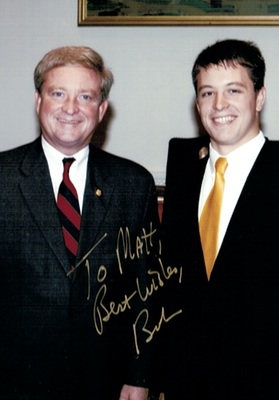 Roussell was right—the experience she gained with Jefferson would turn out to be helpful.
On a Friday afternoon in May of this year, she sits in her large, sunlit office at the Department of Housing and Urban Development, where she's the press secretary.
Roussell, now 32, left Jefferson's staff in 2007, right after he won reelection despite the allegations against him. Her best friend's brother turned up unharmed a few weeks after Katrina hit, and none of Roussell's loved ones were killed in the disaster.
Her next stop after Jefferson's office was as communications director for the House Judiciary Committee. During the job interview, she talked up the skills she had acquired while dealing with the Jefferson investigation: "They hired me largely because all of their beat reporters were the Justice Department reporters—the same ones who had been covering the William Jefferson case."
Rousell joined the Obama campaign in 2008, which led to her current job in his administration. She says the last time she spoke to Jefferson was the day she interviewed for her current position. She thought she'd call him for some career advice, like old times. He was a few months from the start of his trial for federal bribery and public corruption. He would be found guilty and sentenced to 13 years in prison, though he's not yet in jail and is appealing his conviction.
"He was not the same," recalls Roussell, who says Jefferson sounded distant and sad. "I've not talked to him since."
She was disappointed when the day came for the defense to present its case and Jefferson chose not to testify. Says Roussell: "I'm still waiting to hear the full explanation."
Kirk Fordham, a former chief of staff to Florida Republican representative Mark Foley, vividly remembers the afternoon in September 2006 when Foley's career came crashing down. Though Fordham had left Foley's office nearly three years earlier, he was still working in Congress and was at Foley's DC home for a meeting on how to get House Republicans reelected that year. Over lunch, Fordham's phone began ringing. He ignored the first few calls until he realized it was Jason Kello, Foley's press secretary. Fordham took the call on the back patio.
"Jason was essentially hyperventilating," Fordham says. Questionable e-mails between Foley and a former male page had been circulating, but those were nowhere near as damaging as what was about to surface. Kello told Fordham he had just received a call from ABC News asking for comment on a string of sexually explicit instant messages Foley had sent to another page. (Attempts to contact Foley for this article were unsuccessful.)
An ethics investigation followed. Because Fordham had spent years working for Foley, he became a key witness. The ethics committee interviewed him for four hours. He was also interviewed by the FBI as part of a parallel criminal probe. Fordham says his legal bills topped $30,000. Friends set up a trust to help pay the tab.
Fordham had worried for years that Foley was "too chummy" with male staffers and pages but says he wasn't aware that the problem went beyond just appearances. While he was Foley's chief of staff, he says, he found himself in the "very uncomfortable" position of confronting the congressman about the way he interacted with young men. "You have to strike that careful balance because your job is to protect the congressman's reputation," says Fordham.
The final ethics report concluded that Fordham had talked to his then-boss about the appearance problem and had also alerted House leadership. The report commended his efforts to curb Foley's behavior, but Fordham's involvement made him a media target. He remembers sneaking into his own home through a back alley to avoid the reporters staking him out. Even now he has to deal with residual effects.
A Wikipedia entry about him says he used to accompany Foley in public to keep him out of trouble. "That just never happened," says Fordham, who today is CEO of the Everglades Foundation near Miami.
Next: "I didn't even know what a lobbyist was."
After the Abramoff scandal, Congress created new rules that mandated ethics training for employees of the House and Senate. But when Matthew Parker worked for Bob Ney, there was no required ethics training. Parker says he had no idea what the rules were, which was especially dangerous because at age 20 he was thrust into a fast-paced new world: "I didn't even know what a lobbyist was before I went to DC."
Suddenly Abramoff and Neil Volz, who had been Ney's chief of staff before going to work with Abramoff, were helping to fund a glitzy lifestyle for Parker and his colleagues.
Abramoff's downtown DC restaurant, Signatures, was a popular hangout for Ney's staff. Parker says sometimes he and the other aides paid their own tabs, but other times it was murky. "They had these Tuesday sushi nights, and we'd all be there," he says. "I don't always know who paid. There was really no true understanding of what was right and what was wrong." There were also sporting events. Parker once sat with Abramoff in a luxury box at an Orioles game.
These outings would help prosecutors build the case that Ney's relationship with Abramoff was all about exchanging favors. While Abramoff wined and dined Ney and his staff, Ney reciprocated by putting comments supporting Abramoff's business dealings into the Congressional Record and pushing legislation to reopen a casino for one of Abramoff's Indian-tribe clients.
With Ney's encouragement, Parker took time off to finish college. When he returned to Ney's staff, he was promoted to a position in the district office in St. Clairsville.
Wherever Ney went, so did Parker. They made the trip between DC and St. Clairsville together regularly. So when Parker sat in on a meeting with Ney and his chief of staff, Will Heaton, about taking a trip with Abramoff to St. Andrews golf course in Scotland, he expected to be invited along. "I'm thinking for sure I'm going to get to fly on a private jet to Scotland," Parker says.
"I didn't even know what a lobbyist was before I went to DC."

According to Parker, Ney and Heaton "set out to take that trip because they were friends with Jack Abramoff and Jack Abramoff asked them to go." Parker says that Ney didn't want to go on the trip because he was such a bad golfer and that Abramoff's version of events—which came out years later—claiming that Ney solicited the trip in exchange for helping Abramoff's clients is false.
By the summer of 2006, with the investigation under way, Ney's staff started to quit—and disappear. Heaton stopped showing up for work. His behavior was explained months later when it was revealed he had worn a wire to work to help the FBI gather evidence against Ney.
As Parker watched his friends and colleagues depart, he didn't lose faith in his boss. It had been about a year and a half since Ney had first been linked to the Abramoff scandal, and in January 2006 the lobbyist had pleaded guilty to fraud, tax evasion, and conspiring to bribe public officials.
Parker had been promoted again, this time to district director in Ney's Ohio office. When the Republican party pressured Ney to resign, Parker, then 25, became the congressman's biggest cheerleader. Ney says that when his longtime pollster told him, "Mickey Mouse could beat you in the primary," Parker encouraged him to keep fighting. Ney says he saw a lot of himself in his young aide: "He's not faint of heart."
Parker threw all of his energy into getting Ney reelected in 2006. "My life was just Bob Ney world," he says.
Even at home, he couldn't escape his work, because he and Ney lived across the street from each other. They worked at Ney's kitchen table a lot—in part, says Parker, because Ney drank during the day and couldn't get away with doing so in his office.
Ney's alcoholism worsened as the Abramoff scandal intensified. Parker worked closely with Ney's scheduler to plan campaign events when Ney was most likely to be sober.
Parker had also adopted unhealthy habits of his own. He had begun smoking and drinking. He slept at most five hours a night.
On a Friday night in June 2006 around 10, while Parker and his wife lay in bed, the phone rang. It was the FBI.
"I just hung up," Parker says. "I didn't know what to do."
He met with a lawyer from the House General Counsel's office, and the two sat down for a round of questioning by an assistant US Attorney, an FBI agent, and an Interior Department investigator working on the case.
The interview went terribly. Parker says the FBI agent thought he was lying about the motivation behind the Scotland trip and who had paid for meals at Signatures, a Las Vegas trip, and Ohio State football tickets. "We paid for the Ohio State football tickets. I know that I paid my way to go to Vegas. But they didn't believe me," Parker says. "They didn't like my answers because my answers didn't incriminate Bob."
Parker says he made matters worse during the questioning by giving "smart aleck" answers. Finally, the investigators stopped the interview and advised Parker to hire a defense attorney.
"The House counsel—he was just a kid my age, and you could see his face turn white as a ghost," says Parker. "He just looked at me and said, 'I no longer can be a part of this.' "
Within weeks, Parker was subpoenaed for documents as well as to testify before a grand jury. He hired a lawyer who helped him assemble all of the e-mails, phone records, and bank statements necessary to prove he was telling the truth about who had paid for what. House rules mandate that if an employee of the House is subpoenaed, the subpoena has to be read publicly on the House floor. So overnight, Parker went from anonymity to the front page of newspapers.
Despite the legal drama, Ney's reelection fight slogged on, and a couple of days after Parker was subpoenaed, he was walking in a parade in New Philadelphia, Ohio, with campaign volunteers.
The local paper, the Times-Reporter, had sponsored the float in front of them. Newspaper staff were handing out free copies of the paper. A story about Parker's subpoena was on the front page.
As he tried to distribute campaign literature, Parker says, some people in the crowd just held the newspaper up in his face: "It was like hand-to-hand combat."
Next: A mix of flaws and teaching moments
Today Parker owns his own political firm in a restored brick building on a quiet street in downtown Columbus. A collection of golf balls—almost all from courses Parker has played—is on a side table in his office. It includes a ball from St. Andrews, a gift from Ney. Parker did not get asked to go on the trip after all.
The Scotland trip became a focal point of the Abramoff scandal. Though he admitted to trading other favors, Ney—who is now a talk-radio commentator, runs a nonprofit focused on treating stress and substance abuse, and has been sober for five years—maintains that he didn't solicit that trip from Abramoff. Nonetheless, it's still held up as an infamous example of public corruption. So when Parker didn't get invited—Ney says he mostly left it up to Will Heaton to decide who would go—it was one of the biggest breaks he ever got. Heaton, then the youngest chief of staff on the Hill, did go to Scotland and later ended up pleading guilty to conspiring with Ney and Abramoff.
When Parker had to retain a lawyer, he says, the attorney took his case because Ney's legal defense fund was supposed to cover Parker's bill. But when the time came to pay, the fund was tapped out. Parker owed about $50,000 to the law firm—an amount that likely would have bankrupted him. The firm then waived his debt.
Still, the aftermath of the scandal wasn't easy. After Ney resigned and pleaded guilty and Republicans lost the 2006 elections in droves, Parker was unable to find work. He wanted to get out of politics, so he started looking for jobs in other fields, including at advertising agencies. He didn't get far: "The only thing they cared about if you worked in politics was if the guy you were working for was still powerful. And he wasn't. He was going to jail."
Parker's wife, who had just finished graduate school, started working as a cashier to help make the mortgage payments. Despite the stress Parker put her through, she stood by him.
Parker eventually realized that campaigns were his talent, and despite his determination to get out of politics, he opened a campaign consulting firm in his basement. He built up a client base, initially relying on contacts he had made working for Ney.
Parker's firm, Front Porch Strategies, has grown to seven employees and focuses on helping campaigns execute mass phone calls to voters, dubbed "robocalling." During the 2010 election cycle, Front Porch had clients in 37 states and Canada.
Though he now recognizes how naive he had been to ignore Ney's conduct, Parker's loyalty to the ex-congressman never gave out. Ney served 17 months in prison, during which Parker acted as his power of attorney. They no longer live across the street from each other, but they still talk at least every couple of weeks, and Ney occasionally takes care of Brutus, Parker's Boston bulldog.
"He had his flaws, but anything I had in politics he introduced me to," says Parker, now 29. "He taught me a lot of the good things I know about politics today."
Parker, who was raised Christian, started going to church again in 2008. He says Jesus Christ has replaced politics as his number-one priority, and his faith has helped him strengthen his marriage. He and his wife are in the process of adopting their first child.
But Parker knows he's not the last young staffer who will endure the kind of turmoil he went through. "There are still people like Bob Ney in Congress," he says. And still people like Matthew Parker who work for them.
This article appears in the August 2011 issue of The Washingtonian.