This five-bedroom in the Outer Banks sold for $505,000 in March. Photograph courtesy of Twiddy & Company Realtors
In July and August, thousands of Washingtonians head to the beach. Among the throngs playing in the sand are news anchors, chefs, and high-profile lobbyists. Here's where some well-known locals spend their summer—plus a look at how the real-estate market is faring from Lewes to the Outer Banks.
REHOBOTH BEACH
You might say that Tony Kornheiser, host of ESPN's Pardon the Interruption, and wife Karril bought in Rehoboth Beach, Delaware, at the worst possible time. It was 2005, and the market was nearing its peak.
Rehoboth's walkable community reminded him of Long Beach, New York, where he lived after college when he was a reporter for Newsday. "It was familiar to me," he says. "I bought the house on impulse at the height of the market. The real-estate agent was thrilled."
Despite the timing, the Kornheisers are happy they chose Rehoboth. They typically spend a few weeks there in July and August, and they go for weekends throughout the year. Some of their favorite restaurants are Summer House (228 Rehoboth Ave.; 302-227-3895), Blue Moon (35 Baltimore Ave.; 302-227-6515), and Nage (19730 Coastal Hwy.; 302-226-2037).
Bill and Renay Regardie built a house in Rehoboth's Henlopen Acres in 1990. Bill—whose Regardie's magazine reported on the Washington business world off and on from 1979 to 2001—says they start using the house in April and spend much of the summer there. He golfs at the Rehoboth Beach Country Club (221 West Side Dr.; 302-227-3811) and dines at the Back Porch Café (59 Rehoboth Ave.; 302-227-3674).
Thanks to a stable community of longtime owners, Rehoboth hasn't experienced the high rate of foreclosures and distressed sales as some of its neighbors. And after three years of price decreases, the market is beginning to rebound: In 2009, 50 single-family houses sold in Rehoboth with a median price of $900,000; in 2010, 59 houses sold with a median price of $1 million.

What $500,000 buys: In January, a townhouse on Rehoboth Avenue, six blocks from the beach, with four bedrooms and five baths sold for $485,000. The former owner had it on the market for $690,000 before losing it to foreclosure.

What $1 million buys: A block from the beach, a furnished five-bedroom, three-bath 1990s Victorian-style house sold for just under $1.1 million in November 2010. It had been on the market 14 months and originally listed for $1.25 million.
LEWES, DE With its main street and historic district, Lewes feels more like a small town than a resort community. "Lewes is the most year-round of the Delaware beach towns," says Lee Ann Wilkinson of Prudential Gallo. It has traditionally been less expensive than Rehoboth and Bethany, in part because it doesn't draw as many second-home buyers.
Steve Elmendorf, a partner at the Washington lobbying firm Elmendorf/Ryan, recently renovated a two-story shingle-style house in the historic district and plans to spend all of August there. "Lewes is quiet," Elmendorf says. "If you want all the stuff that's in Rehoboth, it's only six miles away."
Restaurateurs Todd and Ellen Gray, owners of Equinox in DC, are Lewes regulars. "We've seen the little downtown area of Lewes come up in the world," says Ellen, who grew up in Washington and frequented the Delaware beaches as a kid. Among their favorite spots are Kindle (111 Bank St.; 302-645-7887) for baguette sandwiches and the bakery/bistro Cake Bar (115 Second St.; 302-645-2253) for pastries and coffee.
As in Rehoboth, the housing market in Lewes has leveled off. In the first quarter of 2010, four properties sold there with a median price of $625,000; in the first quarter this year, nine properties sold with a median price of $635,000. Wilkinson says that properties worth more than $500,000 have held their value better than those at the lower end of the market. Still, almost all homes in Lewes are selling below their list price.
What $500,000 buys: Homes in the historic district are taking, on average, seven months to sell. A three-bedroom, two-bath home built in 1897 sold in March for $545,000. It listed for $569,000 and sold in five months.
What $1 million buys: A five-bedroom, three-bath bath house that dates to 1740 sold for $940,000 in December, three months after it went on the market for $980,000.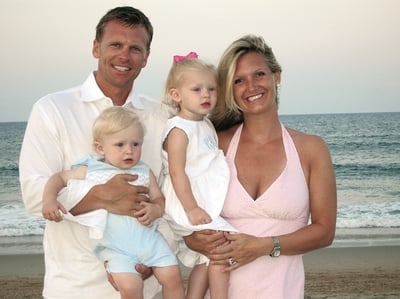 BETHANY BEACH
NBC4 sports anchor Dan Hellie grew up in Gaithersburg and has been going to Delaware's Bethany Beach his whole life. He and his family, including two children, rent a house there every summer. "I've been to a lot of beach towns but never found one that has the perfect little boardwalk and quaint feel of Bethany," he says. The Caribbean restaurant Mango's (Garfield Pkwy. at the Boardwalk; 302-537-6621) is a favorite, and a stop at DB's Fries (100 Garfield Pkwy.; 302-537-0880) is a must every summer.
Harvey Galper, an economist at Deloitte Consulting, bought a house in Bethany in 1977 when his children were eight and ten years old. Now he has two granddaughters, nine and six, who love coming to Bethany. Among their favorite things to do is get ice cream after dinner at Dickey's (97 Garfield Pkwy.; 302-539-1119) and go to magic shows at Dickens Parlour Theatre in nearby Millville (35715 Atlantic Ave.; 302-829-1071).
A strong spring buying season has real-estate agents hoping that the market in Bethany has turned the corner. In the first four months of 2011, 39 single-family houses sold in Bethany—a significant uptick from the pace over the same period in 2010 (19 homes) and 2009 (13).
Realtor Leslie Kopp says many of the homes that sold in 2010 were smaller ones away from the water, which may help explain the relatively low median sales price for single-family houses last year: $490,000. Thus far this year, higher-priced properties are attracting buyers: The median price for single-family homes sold from January through April of 2011 was $806,250.
What $500,000 buys: Three blocks from the beach, a three-bedroom, two-bath ranch house sold in April for $475,000. It had originally listed for $550,000 and spent 21 months on the market.

What $1 million buys: Five months after listing for $1.2 million, a six-bedroom, five-bath house on the Loop Canal—less than three blocks from the beach—sold for $1.16 million in February.
OCEAN CITY
With its high-rise condos and summer traffic, Ocean City, Maryland, is rarely confused with the barefoot charms of Bethany. But that doesn't bother Fox 5 news anchor Brian Bolter. "A lot of people think Ocean City is about rowdy high-school grads, cheap buffets, and Putt-Putt," he says. "They obviously don't know about the city's hidden treasures. Selfishly, maybe that's a good thing." Some of Bolter's favorite spots include the tiki bar Fish Tales (22nd St. and the Bay; 410-289-0990) and the waterfront crab shack Bahama Mamas (221 Wicimico St.; 410-289-0291).
In 2006, Bolter and his wife, Lisa, bought a 5,000-square-foot house in a new-home community on Assawoman Bay in nearby Bishopville. The neighborhood is a mixture of year-round residents, retirees, and vacationers. "The common thread seems to be a general disposition of no worries," he says. "People here don't sweat the small stuff."
NBC4 meteorologist Doug Kammerer makes a point to give his children, ages four and two, the same Ocean City experience he had as a kid. Kammerer's parents owned a vacation home in the town when he was growing up, and his extended family still gathers in Ocean City every summer, with members coming from as far away as Colorado and Florida.
Ocean City grew rapidly between 2000 and 2006, and it has been slower to recover than other nearby communities. Foreclosures still make up a significant portion of the inventory—294 homes sold in the first quarter of 2011, 15 percent of them foreclosures. Jennifer Cropper-Rines, president of the Coastal Association of Realtors, says Ocean City buyers can find a lot of good deals, particularly on condos with three or more bedrooms.
What $500,000 buys: A second-floor three-bedroom, two-bath condo on the bay at Hidden Harbor sold in January for $520,000, nine months after being listed for $599,000.

What $1 million buys: At the Gateway Grand, at 48th Street and the beach, a four-bedroom, three-bath eighth-floor condo with ocean views sold in April for $899,900. It had been on the market 14 months and originally listed for $1.03 million.
OUTER BANKS
Michael Charness, managing partner at the DC law firm Vinson & Elkins, used to own a place in Bethany Beach before buying a home in Duck on North Carolina's Outer Banks. "It's very different from Bethany," he says. "It doesn't have a town center. It's more scenic."
Charness and his wife, Kathy Little—also a Vinson & Elkins partner—spend about three weeks a year in Duck and enjoy going to such restaurants as the Blue Point (1240 Duck Rd.; 252-261-8090) and, in nearby Kitty Hawk, Ocean Boulevard Bistro & Martini Bar (4700 North Virginia Dare Trail; 252-261-2546).
NBC4's Dan Hellie also frequents the Outer Banks. Although it's a much longer drive to Duck than to Bethany—it takes about five hours—Hellie says you can get more house for your money. And his family is usually able to rent right on the beach: "That's huge when you're lugging beach chairs, boogie boards, and all the kids' stuff."
Big houses are common in the Outer Banks, where short-term rentals offer non-owners opportunities to host family reunions and other large gatherings. The Four-by-Four area north of Corolla—14 miles of beach where four-wheel-drive vehicles are required because there are no paved roads—is known for big houses, some with more than 20 bedrooms.
Because so much of the housing in the Outer Banks was built within the last ten years, a lot of owners were under water on their mortgages when the market collapsed. In the northern part of the Outer Banks—from Duck to the Four-by-Four area—about a third of the 256 sales from April 2010 to April 2011 were either foreclosures or short sales.
But prices are beginning to show signs of stabilizing. After falling for three straight years, the median sales price increased from $547,000 in 2009 to $559,500 in 2010.

What $500,000 buys:

In March, a five-year-old, five-bedroom, four-bath home in the Four-by-Four area—the second house from the beach—sold for $505,000. It had listed for $535,000 and was on the market four months.
What $1 million buys: A foreclosed house in the Whalehead Club in Corolla—where Supreme Court justice Antonin Scalia and former Redskin Russ Grimm have vacation homes—sold recently for $1.18 million. Four bidders competed for the house, which had listed for $1.15 million.
This article appears in the July 2011 issue of The Washingtonian.
Subscribe to Washingtonian
Follow Washingtonian on Twitter