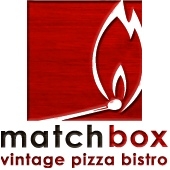 There have been rumors swirling for a few weeks, but Missy Frederick at the Washington Business Journal reported Monday that Matchbox is officially coming to 14th Street. Ty Neal, a partner in the mini chain, tells Frederick that the new location (1907 14th St.)—the fourth local iteration of the pizza-and-sliders restaurants—will be two levels and require a yearlong buildout. The address is just across the street from the building where Taylor Gourmet plans to open an outpost this fall. Neal also said that his company is looking to bring its Capitol Hill retro-diner concept, Ted's Bulletin, to the Logan Circle restaurant row, but a lease has not yet been signed.
The latest local Zagat guide came out Wednesday, and the Washington City Paper's Chris Shott gave us a rundown of the restaurants that scored best in the pocket-size book: Marcel's, Inn at Little Washington, Komi, CityZen, Rasika, Makoto, Restaurant Eve, Citronelle, and Palena. How does this differ from last year's guide? Well, it doesn't, really.
Rogue 24, former Vidalia chef R.J. Cooper's long-awaited back-alley restaurant, finally opened this week. We took a look around the place, located near the Convention Center, and snapped photos of some of the dishes that make up the 16- and 24-course menus (think "shrimp/Buben's grits/bent & twisted").
Tim Carman of the Washington Post got all the gritty details about the tax problems that caused the skewers-and-sushi spot Kushi to close briefly last weekend. The DC government had been working with owners Darren Lee Norris and Ari Kushimoto Norris on back sales taxes of $129,000, and Kushi was late on its monthly payment. Last Friday, someone from the Office of Tax and Revenue showed up, took the cash in the restaurant, and closed the doors. After a back and forth with the government, Kushi was able to reopen Monday night.
Subscribe to Washingtonian
Follow Washingtonian on Twitter
Follow the Best Bites Bloggers on Twitter
More>> Best Bites Blog | Food & Dining | Restaurant Finder