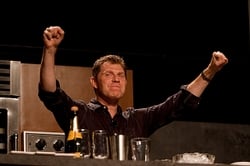 The Washington Post's Tom Sietsema has the goods on the new chef who will take over the kitchens at drinking dens the Passenger and Columbia Room. He's Joe Rumberger, a former sous chef at Restaurant Nora. A totally natural segue into the world of half-smokes and waffle sandwiches.
In the Fish, Meet Bicycle Department: Bobby Flay enters the downtown DC burger fray with Bobby's Burger Palace, slated to open August 16 on K Street, Northwest. On the menu: a Napa Valley burger with goat cheese and Meyer-lemon-honey mustard; a Dallas burger with slaw, barbecue sauce, and Monterey Jack; and—this could actually be the answer to our noontime prayers—a grilled cheese.
For years, Pedro & Vinny's burrito cart was one of the few bright spots in DC's street-food scene, with lines that stretched down the block. We knew owner John Rider was a shrewd businessman, but we didn't see this coming: ArlNow.com reports that he has franchised his concept to a South Arlington restaurateur who is turning what was once Santa Ana restaurant into a venue for Rider's Grey-Goose-sauced menu. Rider is also planning a street cart for Crystal City.
President Barack Obama turned 50 this week, and Vanity Fair imagines his celebratory meal through the eyes of Representative Emanuel Cleaver, he of the "sugar-coated Satan sandwich." The five-course menu starts with "salad of Satan sugar snap peas" and ends with a choice of "Satan sorbet" or a "frozen Satan Snickers bar." To be enjoyed with "Satan Sanka," of course.
Some quick hits:
Cava Grill, which applies the Chipotle ordering concept to Mediterranean ingredients, is planning a November opening for its location in Tysons Corner Center mall.
Thai X-ing, Taw Vigsittaboot's one-man Thai restaurant and takeout in a Shaw English basement, has expanded to other floors and now has around 30 seats.
And it looks like Chef Geoff's is headed to Rockville, in the Towne Plaza space that formerly housed Againn. If the deal goes through, owner Geoff Tracy tells Bethesda he'll spring for a "million-dollar plus renovation."
Subscribe to Washingtonian
Follow Washingtonian on Twitter
Follow the Best Bites Bloggers on Twitter
More>> Best Bites Blog | Food & Dining | Restaurant Finder